But first, our disclaimer:
Easy On Hold is not responsible for the performance, installation or operation of equipment we do not sell. Articles about equipment are for educational purposes only and do not constitute an endorsement of any make or brand. Easy On Hold makes no claims or warranties regarding telephone equipment of any kind.
Audio Travels From Music On Hold Player Into Phone System
For a PBX system like the iDCS, an external music on hold source must be used. The ideal solution is a professional-grade music on hold player such as the 2 Channel Business Audio System by Easy On Hold®.
MOH Audio Player
Music On Hold Player RCA Connector: 8 Ohms or 600 Ohms?
On the back of the music on hold player are connections that provide the audio for your phone system. The 600-Ohm output is intended for telephone systems. (If your particular situation needs a louder signal, you may use the 8-Ohm output without harming your equipment.) The 8-ohm output is appropriate for sound amplification systems, such as public address systems or overhead music systems.
Audio is played continuously from the music on hold player. The sound travels from the AUDIO OUTPUT over the audio CABLE.
Install Connection To KSU Motherboard
Connect leads to the KSU Motherboard, pins 10 (Grey/Red) and 35 (Red/Grey), for audio source. Leads should terminate in an RCA-type phono plug (shown) for compatibility with music on hold player output. Connect music on hold audio out 600 Ohms.
Program C.O. Lines
Each C.O. Line (trunk) can be programmed to receive a music source, system generated TONE or NO MUSIC when it is put on hold. See programming manual for instructions (MMC 408) (diagram to the left is based on Samsung Installation Manual for iDCS 100). The default setting is TONE. MOH SOURCE: 371 connects to the MOH source connection detailed above. If no source is connected, phone will play INTERNAL CHIME (Old Folks At Home).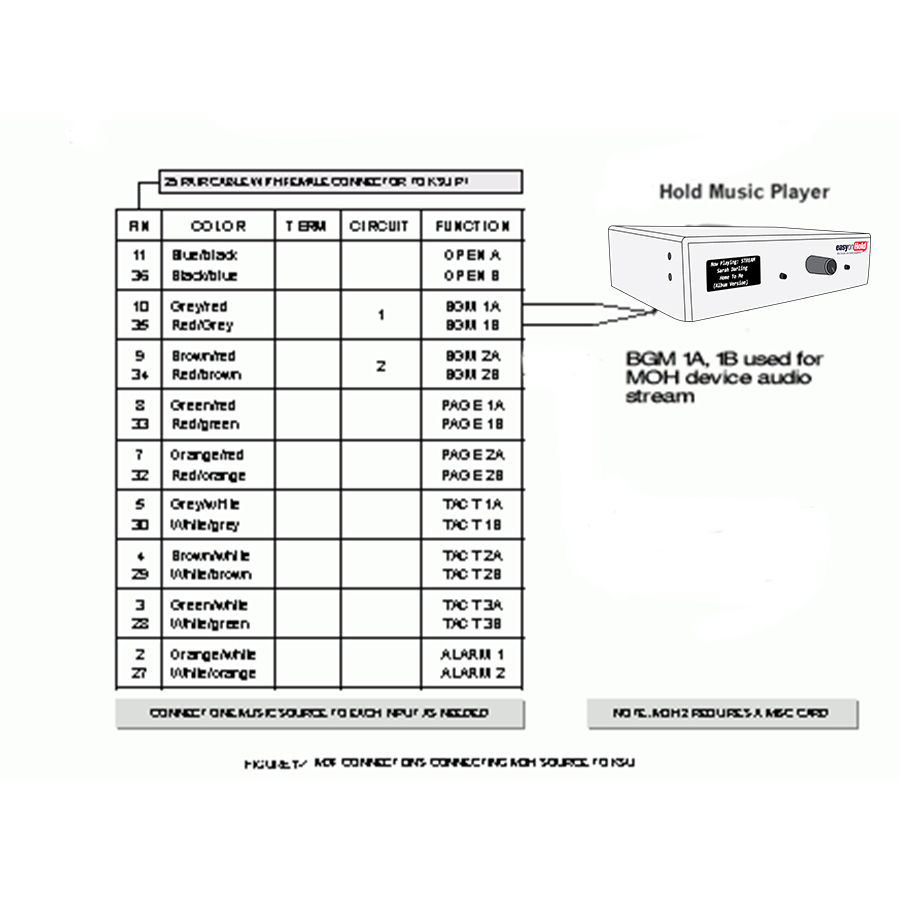 Give us a call. Don't worry about asking for help. We can be reached between 8:30am and 5pm Eastern time: 1-888-798-HOLD (4653).