Easy On Hold® Streaming Platform
Easy On Hold® has developed a live streaming platform as a convenient, managed music and messaging on hold service. Users log in to a personalized online dashboard to request, approve and schedule music and messages.
Voiced messages are presented as individual topics, each about 40 seconds in length. Each topic can be programmed with start and stop dates and times. As the stream plays continuously, randomizing topic playback, callers are treated to fresh audio every time they are placed on hold.
EOH STREAM FEATURES
Log In To Request Content
User (marketing/manager/owner)logs in to request the creation of one or more "topics". A topic is a 20 to 30 second long voiced recording. Typically, unique music enhances each topic.
Custom Audio Topics
The Easy On Hold® studio produces the topic audio in 3 days or less. Upon approval, the audio is scheduled to play (in a randomized fashion, so callers can't predict what's coming next).
Schedule Topics
A topic can be scheduled to play at a certain time, day or duration of days and times. This allows "good morning" or special day-of-week announcements, which impress callers.
Set Priorities
When you have a topic that's time-sensitive or something you want all callers to hear, use our priority settings to make that topic play more often.
BROADSOFT INTEGRATION IN NEXTIVA
There are two methods for mounting a SIP stream for MOH in the Broadsoft Nextiva environment:
PIKA Warp and MicroWarp, which relies on a device that mounts audio on a SIP stream address.
Direct Streaming from the EOH Cloud, in development as of this writing.
Development of EOH Cloud Stream management tools are in process, after which a NEXTIVA Beta Streaming MOH will be available.
NOTE: Nextiva separates INTERNAL and EXTERNAL music on hold. Two streams are required for users desiring MOH to be heard for both internal calls (extension-to-extension) and external calls (incoming/outgoing outside of platform).
NEXTIVA REQUIREMENTS FOR DEPLOYING SIP STREAM MOH
Setting up SIP streaming MOH, regardless of method employed, requires Enterprise Access. For most users, this will require calling into support to configure. Typically, Nextiva does not allow customers to make configuration changes.
EASY ON HOLD® REQUIREMENTS
EOH will need the SIP domain name (i.e., prod.voipdnsservers.com) and proxy server if they are using one. EOH will work with Nextiva support to get Sip Username.
The current streaming hold music solution: PIKA Warp
The PIKA Warp and Micro Warp are devices that use a custom Asterisk build to mount an http mp3 stream onto a SIP address. The devices are typically placed at the end-user site but can also be hosted at the Easy On Hold® site.
EOH HOSTED PIKA
Easy On Hold® can host the PIKA device at its site. The EOH carrier is CTS, bandwidth is 1Gb. For redundancy EOH has multiple gateway servers that provide load balancing and redundancy for our streaming servers.
FAILOVER SCHEME
There is no failover on the PIKA device. At the local site, continuous internet is required. The EOH Streaming Server does have a failover scheme: when the url requests a stream, it is managed by a gateway server and will play the primary stream. In the unlikely event the primary stream is not available, the gateway will direct the backup (secondary) stream to play music.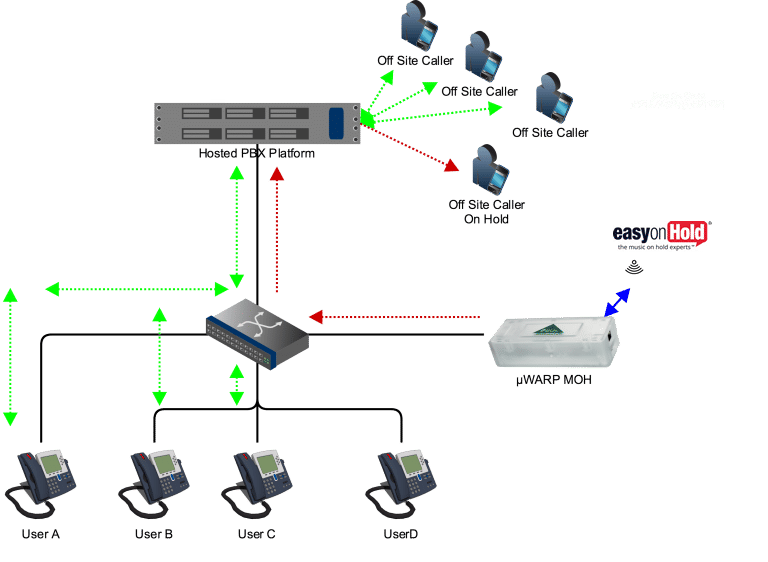 Direct Streaming From EOH Cloud
EOH CLOUD SIP STREAM
Ideally, users should not need equipment on site to connect a stream to their cloud phone service.
The EOH Cloud SIP Stream will present the custom client stream on a SIP address. Calls placed on hold in Broadsoft (NEXTIVA and other hosted Broadsoft services) will be able to hear the live streaming audio from the EOH Cloud. As users change content in their Easy On Hold web portal, changes can be heard immediately on their phones.
EOH CLOUD STREAMING FEATURES
Monitoring
The EOH portal will allow users to monitor the audio callers are hearing. Data is collected to aid in setup and troubleshooting. Streams complete self-checks.
Redundant Architecture
The EOH Gateway Server receives the URL request and locates the client stream. In the unlikely event the client stream is unavailable, a substitute music stream is automatically provided.
Low Bandwidth
Bandwidth consumption is just 0.025 GB/hr. for the mono 128kbps stream.
No Maintenance
Once installed, the URL does not change. No further maintenance is required.
TECHNICAL SUPPORT
Contact Us
COPYRIGHT INFRINGEMENT NOTICE
All music on hold must be properly licensed, either through the appropriate Performing Rights Organization in your country, or a licensed provider, such as Easy On Hold®. Beware of your licensing liabilities before putting music on hold.