Setting up your Cisco Hold Music Stream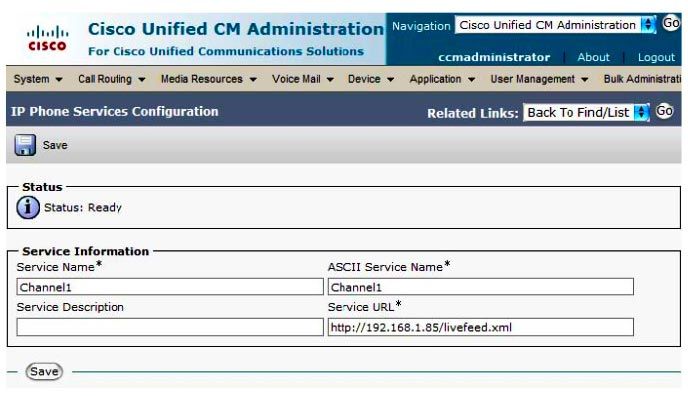 We identified the specific multicast group we were going to use for this application as a general pre-requisite before configuring CUCM. Next we configured an audio source in CUCM that leveraged the Sample Audio Source file but associated it to a new audio source ID (ID 2, in our setup). The reason we used a real audio source file is that if the media consumer (i.e.the device placed on hold) was not on a multicast network, we still wanted to send MoH. It would just be the Cisco sample audio source.
Audio Source Configuration
Audio Stream Number: 2
Audio Source File: SampleAudioSource
Audio Source Name: EOH Stream
Play Continuously: enabled
Allow multi-casting: enabled
MoH Server Configuration
We only associate the multicast capabilities to one of the CUCM IPVMS nodes. This MoH server was configured as follows:
Run Flag: Yes
Multi-cast IP Address: 239.192.1.1
Multi-cast port number: 16384
Increment multi-cast on: IP Address
Media Resource Group
We create two media resource groups (MRGs). The MoH server is assigned to both MRGs. The only difference between the two is that one MRG is multicast enabled, while the other is not.
Media Resource Group List
We created at least two media resource group lists (MRGLs). One of these MRGLs contained the multicast-enabled MRG, while the other does not. The latter is assigned to devices on networks incapable of routing multicast, while the former is associated to devices that are on multicast-enabled networks.
Questions About Multicast
Multicast may not be enabled across all the subnets on your Cisco system. Multicast must be enabled across the entire V-Lan or subnets in order for all locations to access the MOH stream. The 2CBAS appliance is basically presenting the RTP stream to the network in the form of an IP address, to offer MOH to virtual installations. If a soundcard is available, check with Cisco on the USB to audio connector that was popular before VM was commonplace.
Case study shown is an example of one application of the streaming audio solution for Cisco UCM. Please contact Easy On Hold® for more information. Cisco is a registered trademark of the Cisco Systems Inc and is here used as reference only.