As of May of 2014, and Cisco CUCM version 10.5, a new option for Cisco music on hold became available: streaming audio. Until that time, there were two options. You could load .wav files or you could let the default music (Opus One) rattle on in the background. Finally a third option, and an enhancement your business team should jump at.
CUCM can use a multicast IP address to stream content. Easy On Hold, with its hosted streaming music on hold solution, can leverage its new Easy On Hold® 2-Channel Business Audio System to provide an rtp stream CUCM likes.
Uploading Files for Cisco Music On Hold?
Why change from files? Over the years, we have heard from many Cisco users who have asked for a resolution to the most common Cisco music on hold problems:
Starting the hold queue from the beginning each time the hold button is pressed (especially annoying if you have already heard that 20 seconds of hold music and/or message several times).
Custom content (marketing/company info) becoming out of date or obsolete.
Marketing department telling call manager techs to keep changing the music.
Highly compressed music format (G.729 or G.711) sounding less than lovely.
Streaming Audio Solution For Cisco Music On Hold
Because the CUCM multicast is a broadcast, the RTP stream provided by the Easy On Hold 2-Channel Business Audio System can be a resource to play music and messages on any number of lines. Essentially, Easy On Hold® provides the end-user a music-control portal used to set content preferences. Then, an https .mp3 stream is integrated into the EOH 2-C BAS device on-premise. The EOH device transcodes the content to an rtp stream on an IP address for the CUCM to broadcast.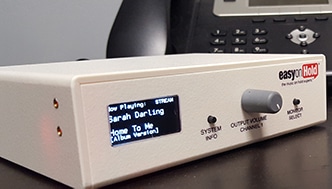 Using the 2-C BAS as a device on the network, any continuous audio can be "streamed" as a media source for Cisco Music On Hold. Essentially, the CUCM is being faked out that there is a file ready to go for the MoH. Since the audio is continuous, however, we have relieved the caller from hearing the same 30 seconds over and over every time they call.
Consult the Cisco Support documentation for more information. You may also contact Easy On Hold support.
Why is the device needed?
Cisco CUCM will not recognize a stream in http. Nor will it allow use of a streaming MOH source that is not hosted on its own network. Therefore, we mount a device on the Cisco network and let it do all the work of generating an acceptable RTP stream. The 2-C BAS device receives the stream from the EOH servers and broadcasts the rtp audio stream over the same, single ethernet connection.
Cisco Music On Hold Frustrates
The live music on hold issue has been the topic of discussion on the Cisco Support Community Forum. You can hear the frustration just by reading these entries.
CUCM does not have easy APIs for media sources as far as we know. This big, bad phone system manufacturer has a lot of catching up to do when it comes to music on hold.
Why streaming is a better solution.
Audio is a clear 128k stream, not a compressed 8 bit audio file.
No need to continuously manage audio files.
Marketing content is streamed from customer portal by Easy On Hold.
Automated message scheduling is handled by the Easy On Hold Server.
Priority scheduling: more important content plays more often.
Flexible: just log in to your Easy On Hold account to make changes any time.
Low bandwidth consumption.
Learn more about hosted, streaming music on hold.