Easy On Hold has participated in the Michigan Credit Union League Conferences, getting to know key leaders in credit union marketing and technology. At one conference, our theme was, "Do You Just Happen To Be Obsessed With Member Engagement?" because, in the credit union environment, you've got to engage members. Specifically, we want to share ideas for Credit Union Messages On Hold & In-Branch Music.
As a credit union marketing professional, you need people to join the credit union and you need members to use your product and services.
Credit Union Messages On Hold were called out as the number one marketing idea for credit unions
Brandon Gaille has a million daily readers on his blog. He says the number one marketing idea that credit unions should be following is utilizing. Read article.

Your customers hate waiting on-hold, but it is a good opportunity to expose them to new products that they might find beneficial. Whether it is low interest rates on a new car loan or a new package of mortgage products that you've just started, let them know about this while they're waiting for help and you'll give them a chance to ask questions.

Brandon Gaille
Do You Know What's On Hold?
When we talk to credit union marketing managers, we ask, "What do you have on hold?" Some have voice and music, and some just silence. Others just have music playing (maybe it's the radio station or maybe they just didn't know where the music was coming from).
It's interesting because asking, "what do you have on hold" really baffles people, because often they really don't know.
On hold is tucked away in the phone system, and it's easy to forget about. When that call comes in, and the auto attendant picks up, or the call center human picks up, the call is eventually put into the hold queue. The caller either hears something really exciting and engaging or something really bad.
Maybe you're not thinking about what's on hold, but your callers are.
Bad On Hold Is Easy To Find

Bad music on hold is one of the most tweeted topics on Twitter. People hate to be on with call centers and have just a bad experience while they're waiting, and they do take to Twitter. Just go to Twitter and search bad music on hold or bad call center on hold. See what you find; it's kind of funny. Here's the truth, hold time is a reality for callers.
Peak Caller-Times Increase Hold Time
There are peak times during the day when inbound calls must be parked on hold until someone can get to them. I know at my credit union when I call, if I call between 11 am and 2 pm, I will have a long hold time because people are in the branch getting help, on lunch hours or the reps are out for lunch.
Can Credit Union Messages On Hold Be Uplifting?
What if we flip the tables on being on hold at your credit union? Imagine if being on hold could light up your caller's day. Think of how holding and waiting could be fun, compelling, feature great music, and sound fresh and current?
On Hold Messages: unchanged since the 1960's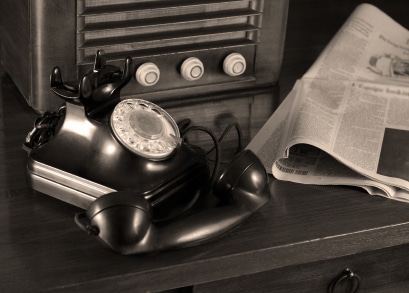 On hold messaging has been around since the 1960s. Unfortunately, the on hold industry still acts like it's 50 years old. You take a four-minute loop of music (just one single style of music), then you layer voiced advertisements over the top. The first problem is, it's boring to hear these messages come in and out over one loop of music. Since all the messages sound the same, the caller will tune it out over this single loop of music.
The other problem with this old method is that when this four-minute loop is over, it goes back to the beginning, and I can tell as a caller when it's starting over again. When that happens, I perceive that I've been on hold for a long time, and I'm frustrated with you. With your brand, with your credit union, whatever.
Above all, remember this: If your message on hold is formatted the "old way" with voices over a single loop of music, you are merely reminding the caller of the last time they were on hold and had a bad experience. You'll will never break through.
Generic vs. time-sensitive topics
Are you using on-hold time to promote current time-sensitive topics? If so, you now have to remember to remove out-of-date files on time so your caller isn't hearing about a loan promotion this month that ended last month. In an act of self-defense, marketers stick with generic content that has no urgency.
"You know what? We're just going to put generic content on there and not change it for five years."
That's what's happening every day all day, and it's too bad. Seems a waste of your members' time.
21st-century approach to a 20th-century idea
Here are some ways we have reinvented credit union messages on hold:
Easy On Hold uses live internet streaming to deliver messages with automatic start and stop dates. You don't want "Jingle Bells" playing in January. With custom scheduling, you can program holiday content to stop on New Year's Eve.
We insist on short and memorable topics. What can someone remember in 20 seconds?
Relevant topics that can lead members to action make on-hold time valuable. The caller feels as though she has had a "value-added" experience with your credit union.
Writers must write "for the ear." This is what is called the "writer's voice". Announcements must use active words and make listening easy, fun, and interesting. The attitude is, "We're just talking to them one on one."
Easy On Hold has created topical architecture. Rather than one track of music playing under all of your messages, each message has its own musical stsyle. Callers enjoy a variety of different ideas that sound different from the next. When the music ends, and the next music starts in, callers are given the variety they need to stay on the line. Altogether, you have a really nice listening experience.
We took the old idea of on hold messaging and reinvented it with a new topical architecture. We use live streams controlled easily in your own fantastic portal. Now you've got a beautiful marketing program that just costs a few bucks a day if even that.