"Little hinges swing big doors," it is said. In other words, sometimes, a small change can make a big difference. If you want to improve your phone on-hold caller experience, consider some incremental changes that can help your organization retain customers. When customers call your company (still the most preferred contact method), they have low expectations. They anticipate poor service and wait times that test their patience with poor-quality, repetitive audio loops. These 13 Essential Best Practices for Messages On Hold are game-changing.
When customers need answers, they search online. When they can't find a solution, they call. When they call, a majority wait on hold for up to 10 minutes. Time spent "on hold" represents a genuine customer interaction and a valuable opportunity to build brand equity and long-term satisfaction.
Exceeding customer expectations
Does your contact center or business exceed customer expectations? Customers expect and demand more from every interaction with you.
Not surprisingly, customers' number one expectation is to feel heard, appreciated, and valued. Your customers are spending their hard-earned money and your product, and they have more choices than ever, so they don't need your company like they once did.

HubSpot Survey
As leaders in the caller experience business, Easy On Hold has developed many practices that make callers feel appreciated and valued. Whenever possible, create multiple queues, each with custom message-on-hold content tailored to help and impress specific caller types.
A personalized customer experience can go a long way in building customer loyalty.

Time Doctor Call Center Trends
List of essential best practices for messages on hold
1. Use the human voice
Reasons for this include adding voiced messages to music decreases hang-ups by 75%; phones (especially mobile) filter out music as "noise" while voices sound good on the phone; and a human voice adds a personal touch, improving your brand.
2. Create on hold messages as individual topics
Rather than using one recording of several topics that loop over and over, create standalone topics. Give each "topic" its own music and personality. Instead of destroying your entire recording when one topic becomes out-of-date, re-organize the particular topics to stay timely.
3. Be relevant
Show callers you understand them. Generic content does nothing for your brand and rarely has meaning to your customer. If you're going to be "general," "timeless," or "evergreen" in your message on hold script, please stop. You don't want callers to hear boring, irrelevant, self-congratulatory messages. They hear that everywhere else. You can do better. Deliver better branding with your messages on hold.
4. 50 words or less
Messages should be focused. Callers can't remember more than 20 seconds or so and shouldn't have to. Make a single important point using 50 words or less for the best impact.
5. Use a call-to-action
Information on hold is a good idea, but telling callers what to do with that information is a better idea! Be conversational and inviting, but at the same time, be clear and concise, giving the caller an option for taking action.
6. Use randomization and daily message scheduling
Predictability causes hang-ups. When you know what's coming up, your brain loses interest. Randomization keeps callers guessing. Scheduling content for specific times of the day or days of the week is another technique for more substantial engagement.
7. Vary the lengths of each on hold message
In one major study of best practices for messages on hold, callers heard a 3-minute song that repeated over and over. Callers hung up when they realized they were hearing the same thing over and over. More notably, callers subconsciously added up the minutes each time the song started playing. Don't give callers a measuring stick for counting the minutes on hold. Variety will result in callers believing their hold time is shorter than in reality.
8. Don't tell callers they're on hold
Isn't it amazing how often you'll be on hold with a company and hear a recording remind you that you're on hold? "Thank you for continuing to hold," or "We're assisting other callers" is off-putting. Avoid low-value statements.
9. Don't tell callers they're important, demonstrate it
A study by the Carey School of Business (reported in our whitepaper, The On Hold Dilemma) proved what we long suspected. When callers hear, "Your call is important to us," they are likelier to hang up the phone. When you provide up-to-date information callers can use, you demonstrate that your customers are essential.
10. No apology needed
Another popular phrase that should be abolished is the apology. Waiting is part of doing business. Don't draw attention to the fact that you are understaffed. Assume your caller is accustomed to a few minutes on hold and deliver high-value messaging they will appreciate.
11. Always have a plan to change the on hold messages
Since you will no longer use "generic" or "one-size-fits-all" on-hold content, you will need a plan for changing the content callers hear while waiting. Produce several individual topics well in advance of need. Use the scheduling feature in your messages on hold content manager. Give every message a start date and a stop date.
12. Use a service that will text you when your content is getting stale
Part of the messages on hold content automation built into the Easy On Hold platform is an alert service that lets you know when a topic is getting long in the tooth. This convenient email or text reminder will help you stay on top of your phone on-hold marketing messages.
13. For extremely long hold times, play music that makes people happy
For hold times of 10 minutes or more (we have clients with 1 to 2-hour peak hold times), play "real" music instead of "stock music." If you've seen our article, The Best Hold Music I Ever Heard, you know what we're discussing. Our music service offers a streaming music channel called Pop Smile. Callers are pleasantly surprised that the "typical" hold music is gone and replaced with music they know and like.
How to apply these best practices for messages on hold
Most of these 13 essential best practices can be implemented today. If you haven't started using voiced messages on hold, consult with Easy On Hold. Our creative team can build a jumpstart library of 8 unique topics, enough to maintain variety for hold times under 10 minutes. If you have a library of on-hold messages, share them with us for review. With a little effort, your little hinges will swing the big door of customer satisfaction. Create amazing experiences that inform and impress your callers.
Learn more about customer experience in the modern contact center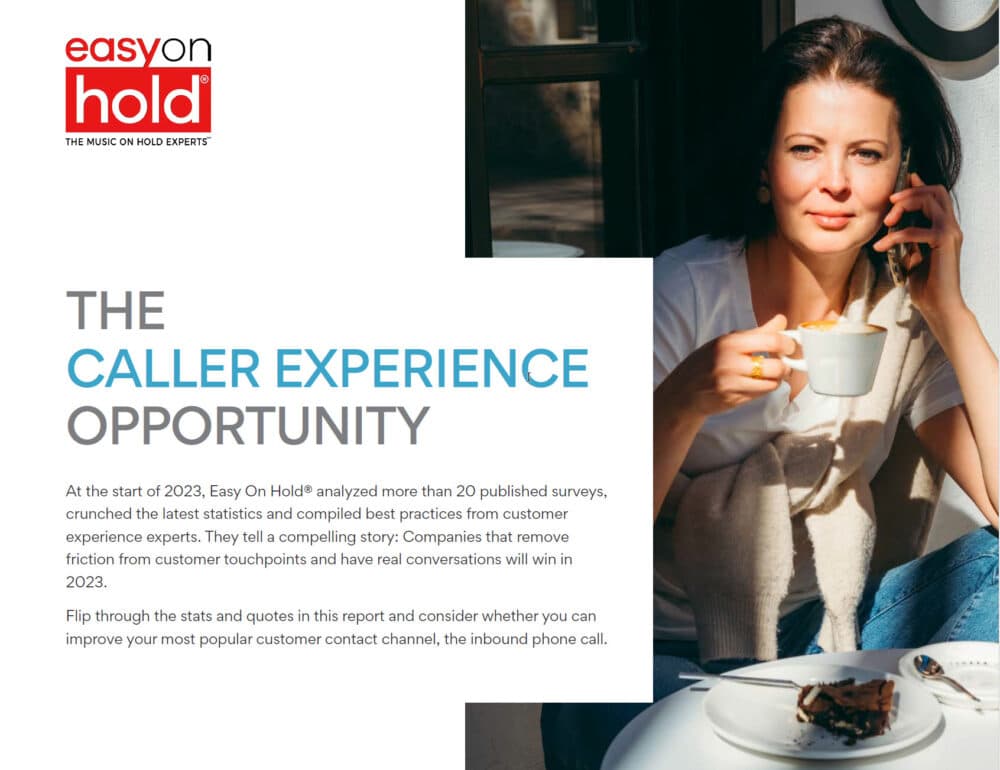 Have you seen the ultimate contact center customer experience report? We did the digging and came up with an eye-opening collection of statistics and insights. They point to an important conclusion: companies that remove friction from customer touchpoints and have real conversations will win in 2023.