What's the best hold music you ever heard? Scan Twitter and you'll discover that on-hold music is a hot topic.
"…was laughing on a call, but the hold music was uncensored "Sexy Back."

@VermyFox on-hold at a medical center (Twitter)
"Most hold music makes me want to throw the phone at the wall."

@lookingforvenn on Twitter
We experience hold music almost every day of our lives. In your lifetime you'll be on hold for more than 40 hours, some estimate. Looking for the best music solution for your phone platform is a worthwhile quest. Let's go.
Twitter users shout out the best and the worst
There is no official Twitter award for the best music-on hold experience, but here are some nominees. Some tweets mention companies by name. Sometimes you'll see songs or artists. The list of the popular hold music on Twitter includes:
Jet Blue for playing Carly Rae Jepson
JoAnn Fabrics
80's Jazz
Schumann 3rd Symphony
A medical center playing Creedence Clearwater Revival and other classic rock songs
Oklahoma Tax Commission
National Rail's calm, relaxing music
Air Portugal
Pink Panther Theme
GrubHub's "sweet grooves"
Select Blinds' "80's treasure trove"
T-Mobile has received dozens of complements, such as, "singing along to the T-mobile hold music," "T-Mobile hold music is playing "City of Stars" and, to be honest, that's all I need to smile a bit more today." and, "Yo T-Mobile hold music is actually really good."
On the flip side of the coin, we have the worst music! Here are a few mentions:
"Currently experiencing the worst hold music I've ever heard. I am open to all styles of music, but this is a new level."
"Insurance companies on their way to make the worst hold music possible."
"How does a billion-dollar company have the worst hold music?? You're making us wait forever.. at least get better music."
"A majority of the businesses out there have the worst hold music."
"I know it's not one of the top 4 million problems in the world right now… but Chase card services has the worst hold music ever."
"At what point does really bad hold music become attempted murder?"
"Bad hold music is a special brand of evil."
Does anyone have more offensive hold music than [brand name]? I love hearing sexist rap music while waiting for my RX to be refilled. Sheesh.

@thetoyguy (Twitter)
Particularly interesting is the comment about how billion-dollar companies can't figure out what to play. What's going on? Maybe choosing the hold music is a harder job than it seems.
This just in: survey points finger at bad hold music – again!
A survey reported in Tech Digest reports "annoying on-hold" music continues to drive people round the bend."
More than the music, it may be the sound frequencies, the phone platform technology (CODEC), and the fact that the sound clip is too short and loops too often that may cause callers to cringe. The Guardian in the UK, Vivaldi's classical work The Four Seasons has been banished by popular demand from the Department of Work and Pensions. They have used a mere 30-second loop of the concerto since 2006. "We had some feedback that the Vivaldi clip caused anxiety for claimants and in particular had an impact on autistic callers," an official said.
Instrumental vs. vocal music: lyrics or no lyrics?
What if you were placed in charge of choosing the music that callers hear? Where do you begin? Who knows what good music is or is not? You may want to start with instrumental hold music. Instrumental hold songs have the benefit of not having lyrics, which can be "taken the wrong way." Many pop songs contain suggestive or promiscuous language, innuendo, references to violence, and negative attitudes. Some songs are sad. Songs without lyrics (instrumentals) solve the problem of screening for offensive content.
And yet, in the case of T-Mobile and other positive reviews, well-known pop music is fresh and fun. Read on to hear about a kind of hold music designed to put a smile on your face!
Who chooses the music-on-hold we hear?
Who is choosing the hold music for most companies? After 25 years in the music on hold business, the Easy On Hold team says most of the time it is an IT representative or communications platform engineer. After all, you naturally choose the music for the queue as the phone system is set up. New phone system? New music. Your tech team must fill the dead air callers will hear while waiting in a queue. Some communications platforms (phone systems) come with default music.
How is that default music working?
The most famous hold music is the Cisco music on hold tune, "Opus One, "whipped up a long time ago by some computer nerds who worked for Cisco. According to Twitter and TikTok, the Cisco theme is so bad that it's good. There are dances, raps, lyrics, and remakes. Unfortunately, this is akin to your go-to music track being the butt of jokes. Cisco no longer requires Opus One as the hold music. Explore Cisco music on hold options. Default music tells callers, "hey, we don't really care too much about what you have to listen to while you wait, so we did nothing about it."
Business hold music greatest hits?
Production music libraries are a common source for business music. Compilations of instrumental music are licensed for video backgrounds, tv shows, documentaries, YouTube videos, etc.) Other names for this music are:
Elevator music
Vanilla music
Royalty free music
Generic music
Generic production music is called "a genre for no one" in a popular article from 2019 by NPR. "If it is a genre, hold music, it's fair to say, is a troubled one with few hits. It's not really meant to be loved or even listened to — it's meant to communicate something specific: Don't hang up," the author writes. The problem seems to be that the usual business-on-hold–music is not well-liked. Contact centers should consider this problem.
Million-dollar phone systems playing "free" music?
This brings our search to that troubled necessity in the cloud: the contact center. Also known as the customer support queue, the modern contact center is only beginning to figure out better ways to address the call queue. Here are some contact center music on hold faux pas we've come across:
Hospital system ripped Vivaldi classical music from a YouTube video (not legal, but free).
Big motorcycle retailer has Bruce Springsteen's "Born To Run" on a music-on-hold loop. The Boss (Springsteen) actually calls to get work done on his bike and asks, "Did you get a license for that?" (True story.) (See our article What Is Licensed Hold Music for more information!)
Technology company support line playing Grateful Dead song because the "boss liked it."
A $5 "royalty-free" track of synthesizer tones plays every day for 5 years until the company is sold and the new owner wants to know who dropped the ball.
Shifting call center music away from generic elevator music to something that is both likable and helps wait time seem short and tolerable is underway at many large companies. In the last few years, Easy On Hold® has merged streaming music technologies and music licensing services into an enterprise hold music solution. (EMOH™, Enterprise Music On Hold™ is a trademark of Easy On Hold®).
Pop Smile – the best hold music I ever heard
You probably have heard that playing music on your phones, as your call center music, requires licensing. Obtaining a license to place a copy of a popular song on your phone server (a mechanical license) is complicated and expensive. However, using the Easy On Hold streaming music for contact centers covers your enterprise for all of the licensing you will need, including sound recording and performance licenses, such as a BMI Music license.
So what is Pop Smile? It is upbeat, fun vocal music (with lyrics) to put a smile on your face. "Bright and happy pop vocal music screened even more strictly than our normal high standards, to remove inappropriate content. Ideal for contact centers that want more than instrumental music while enjoying peace of mind when it comes to song lyrics."
Why does Pop Smile work so well? After a few years of experience with large contact centers using Pop Smile, we have discovered:
Callers are pleasantly surprised that the "typical" hold music is gone; replaced with music they know and like.
Songs are not too sleepy or loud. Pleasant and familiar melodies from various eras.
Songs are of a happy nature, both musically and lyrically. The words are nice, encouraging, friendly, positive, etc.
Songs are of varying lengths and sub-genres, to keep callers guessing what's next. This is the key to making hold time feel shorter: replace the predictable loop.
Excellent results for longer hold times of 10 minutes or more.
Announcements and marketing messages can be placed between songs. When the spoken messages come at the natural end of a song, the caller is not jarred by an interruptive experience. Rather, the sound is more like your own company radio station.
You like me! Changing to a fresh hold music idea shows you care.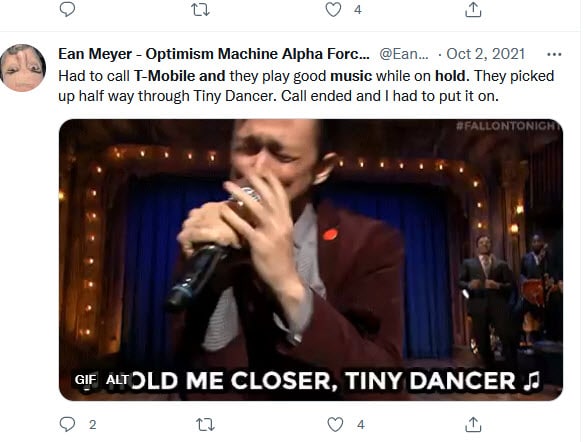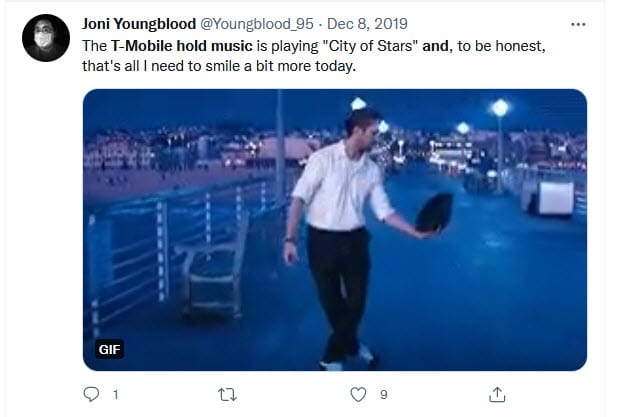 Other contact center music options
Easy On Hold has five specially-curated music channels that are particularly useful for your contact center hold music, (Follow the link to browse music channels, click Genres and choose Curated For Contact Centers.) Among four instrumental channels, you will find Jazz, Bright Instrumentals, Easy Instrumentals, and Light Classic genres. But our favorite is Pop Smile. It's the best hold music we have ever heard.