Avaya streaming music on hold is becoming more popular for call centers using Avaya 7+ with Aura Call Manager. Business and marketing teams can modify an audio stream from Easy On Hold® by logging in to their own control panel. The tech team is no longer involved in updating messages on hold.
Since the debut of Avaya 7.0 with Aura Media Server, call centers have been able to easily deploy an external URL as the hold music source. In Aura Media Server, inbound streams can be in either http/mp3 or HTTP Live Streaming (HLS). The media server supports up to 64 music streams across all supported providers.
Resources: Why The Time Is Right For Avaya Streaming Music On Hold
Easy On Hold®website: Streaming Music Implementation in Avaya Media Server.
Easy On Hold has published a report that talks about live streaming audio on Avaya Aura Media Server.
Introduction

Caller queue and hold times continue to be a weak link in call handling scenarios. Why? Longer hold times, a common experience during the COVID-19 pandemic, meant existing hold music tracks would be heard many times over, inducing caller fatigue. Many new cloud communications platforms rushed to market with few options for hold and queue music, other than file uploads or dreary default music.

The need for easily managed, meaningful content in the queue continues. Hold times still happen; still fluctuate through the day, and as always, waiting customers are easily frustrated.

The Easy On Hold® Streaming Queue Music™ approach connects call center platforms to a continuous stream of scheduled and randomized content (music and/or messages). Multiple streams in various call groups offer unique caller experiences that keep callers informed and connected with your brand.

The Easy On Hold® Streaming Queue Music™ service works with the Avaya Aura® Media Server and has been a game-changer for contact center managers, marketers, and customers.
6 Reasons to use Avaya Streaming Music On Hold
In many cases today, streaming audio is simplifying programming for administrators.
Streams do not take up storage
Manage content in the cloud, not on the phone system
Authorized login option for modifying content
Local tech team no longer managing/loading audio files
Continuous stream of changing music provides variety
The deployment of streaming audio can be as simple as entering an http URL into a text field on the phone interface.
Messages On Hold on Avaya Unified Communications Platform
Avaya Aura® Media Server Streaming MoH from an External Source [7.0.1] Communication Manager can utilize the IP address information of a Music on Hold (MoH) streaming server to play music when a call is placed on hold. The streaming protocol accepts the standard HTTP/MP3 streaming provided by Easy On Hold. AAMS does not support the AAC format.
Music streams managed by this feature play continuously in the background, similar to a CD on repeat or a radio broadcast. Each stream is replicated efficiently to thousands of endpoints.
As a failover feature, Aura automatically records 15 minutes of content as a backup when if the streaming server is unreachable.
Avaya Streaming Music On Hold Transcoding
Each music stream is transcoded one time by Avaya Aura® MS, and is shared across all sessions using the same codec. The media server uses the G.722 codec to encode the audio.
You can easily view the status of each stream. Aura will provide a 15-minute fail-over backup audio file recorded from the stream.
Avaya Implementation And Administering Guide for Aura 7.7
Avaya engineers who need information on implementing Avaya streaming music on hold will find details in the Avaya Implementation And Administering Guide for Aura Media Server.
Deployment Diagram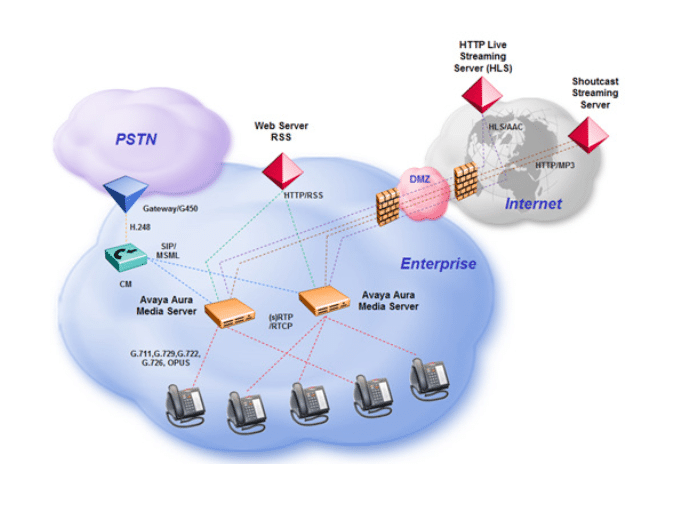 Background Information on Avaya  Aura
Avaya developed Aura to unify call center and medium-to-large businesses' communication needs. Within Aura lies Avaya Communication Manager
Using a unique application of the Session Initiation Protocol (SIP), the Avaya Aura Platform unifies media, networks, devices, applications and presence across a common infrastructure.
Avaya Aura® Communication Manager is an open, extensible IP telephony platform deployed as an IP PBX or feature server supporting a SIP-only environment or an evolution server supporting both SIP and non-SIP environments.
Conclusion
Avaya Streaming Music On Hold is a significant opportunity for your organization. Some of the benefits:
Simplification of programming (automated by Easy On Hold)
Reduced team involvement (changing audio files)
Higher quality audio source
Reduced repetition, leading to higher customer satisfaction
Reliable and supported by Avaya
Easily deployed to specific endpoints
Introduce multiple streams for specific user groups
Upgrades Increasingly Support Streaming Music On Hold
Easy On Hold®, the leader in streaming on hold audio, is the ideal technology partner for turnkey outsourced MOH streaming service. With the introduction of streaming custom music and messages on hold by Easy On Hold, IP PBX platforms are increasingly making accommodations for a custom URL as the music on hold source.
Warning: Performance Licenses Required
Unlicensed music streams for music on hold can be a legal disaster for your organization. Avaya would be wise to publish warnings about copyright infringement liability that are prudent with the new streaming capabilities.