JDUG Meeting Showcases John Deere Hold Messages, Music
The theme for the 2016 JDUG (John Deere User Group) summit in Atlanta was, "Working Together". That looked like a good introduction to the special workshop presented by Easy On Hold. The workshop focused on getting the John Deere dealership marketing and I.T. teams "working together" for a better solution for John Deere Hold Messages, Music and Showroom Music and Announcements.
The workshop was presented by Tim Brown, founder of Easy On Hold, a marketing, broadcast and music licensing firm begun in 1994. Topics covered in the workshop presentation included:
A review of messages on hold
What is content marketing?
What is the new topical architecture for music on hold?
The importance of timing content marketing messages
Technical support can stop loading MOH files
Networking and I.T. concerns of introducing streaming messages on hold
Content control panel
Showroom music and announcements
A Review: John Deere Hold Messages, Music
One reason so many John Deere dealerships use music and messages on hold (Easy On Hold currently serves over 220 Deere locations) is that as many as 70% or more of callers to the dealership will experience hold time. Studies have shown that 20% or more of callers have actually made a purchase based on something they heard while holding! Digging deeper, we see that callers say that given a choice of silence, music or information while hold, the overwhelming majority (85%) prefer information while waiting on hold.
Content Marketing and John Deere Hold Messages, Music
The key to effective marketing is to deliver content that the target audience finds relevant and important. Simply saying, "thank you for holding" is weak and irrelevant. John Deere began content marketing with the publication of his magazine The Furrow in 1895. He knew that if he delivered information that was relevant to his audience, his products will be the preferred solution when the time came to choose agricultural implements.
John Deere Hold Messages, Music Content Ideas
Parts department promotions
Limited-time financing offers
Special events, demos, fairs
Seasonal service specials
Holiday music, change of hours
Get ready for winter, spring
The Need for Topical On Hold Message Architecture
The old way of providing messages on hold is to begin with one piece of somewhat boring (sometimes called "vanilla") music and interrupt it with marketing messages. Our research at Easy On Hold has revealed that this architecture for messages on hold has been so widely used that callers are easily able to "tune out" the content, because they assume the on-hold experience will be as bad as the last time they were placed on hold. This perceived negativity calls for a new approach.
Topical architecture is the new practice of isolating specific ideas or topics into unique, individual, brief audio productions. Each topic is about 50 words in length, wrapped in a unique, exciting piece of music. The selection of male or female voice, the delivery of the script and tempo and style of the music is dictated by the content.
Topical architecture provides many other advantages to the content marketer, including:
Each audio file or topic can be started, stopped and scheduled to play at specific times
Topics can be given a priority ranking or weighting so they are heard by more callers (see priority feature, below)
New topics can be added without having to destroy the entire collection of messages (in the old method of using a single audio file, the expiry of one paragraph would spoil the entire file.)
Listeners are given a specific idea in a memorable form, then anticipate the next topic as the music changes. Callers perceive hold times as being shorter than they actually are.
Three Must-Have Messages On Hold
Easy On Hold has developed an effective content marketing strategy for phone on hold messaging. Clients are encouraged to always provide topics in three categories:
Brand Builder. Your values, vision, slogan, heart of your organization.
Right Now. Current happenings, act-fast offers, call-to-action, ,urgency.
Multi-channel Engagement: Build web traffic, get callers involved in your social channels.
Timing Is Everything
Every message in your content marketing strategy must be timed for maximum effectiveness. The Easy On Hold streaming phone on hold marketing system offers this flexibility through custom scheduling of each individual topic.
In the old way of on hold messages, every topic would play the exact same number of times, as the old single file audio would loop around and around. The new approach allows the must important and urgent topics to play more often, using priority scheduling. Of course not every topic you're talking about is equally important! If your John Deere dealership is offering limited-time financing, callers must absolutely hear this message. As we have stated, repetition is the cornerstone of successful advertising. What good is creating a high-value message if it is not heard by all callers?
Networking and I.T. Concerns
The JDUG presentation provided Easy On Hold with an exciting opportunity to talk about the technical aspects of its easily-adopted streaming messages on hold. Specifically for John Deere dealers, the ProStream message on hold device has been a welcome solution. The device has been devised as a solution that uses minimal network setup. Easy On Hold has published a report on the ProStream – download here.
Control Your John Deere Hold Messages, Music
Easy On Hold has focused on creating simple tools for pinpoint control of messages callers hear. The launch of the new Creative Content Manager (CCM) adds to the effectiveness and ease of programming your creative content.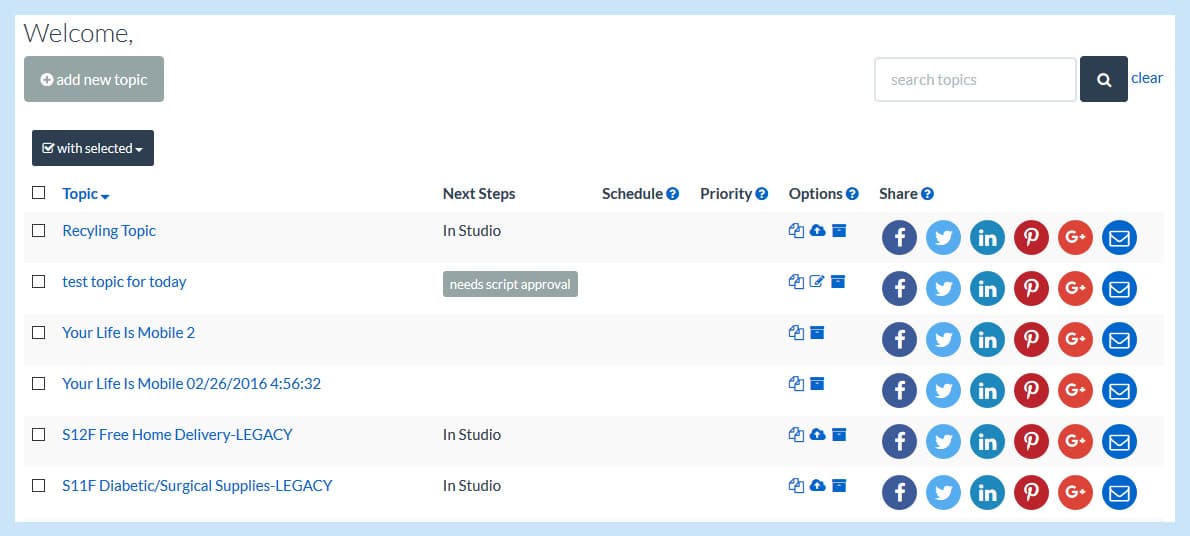 Logging in to your CCM provides a clean interface with access to all content, plus the tools needed to quickly add content. One special feature of this new creative content tool is the ability to tweet out – or post, publish, etc. your on hold scripts to social media. 1 in 3 consumers say their purchase decisions are influenced by social media, so it makes sense to promote your hold message content to your social platforms. Currently the CCM will allow one-click publishing to LinkedIn, Pintrest, Twitter, Facebook, Google Plus and Email.
Music Is Powerful Stuff
Have you ever watched a movie with the sound off? All emotion and much of the meaning of the scene is empty unless the music is experienced along with the picture and dialogue. Now imagine your John Deere showroom filled with fun, motivational music!
Many John Deere dealers are installing streaming music from Easy On Hold. All your favorite artists are played. Of course, proper licensing from ASCAP, BMI and SESAC (music licensing – what you need to know) is included. The U.S. Small Business Administration recently stated,
A growing number of small businesses are being unpleasantly surprised with letters from performing rights organizations… with indirect or direct threats of copyright infringement.
The music system also allows dealers the option to block specific songs and blend musical styles to create a truly unique sound.
In Showroom Overhead Announcements
Some dealer groups have opted to have announcements mixed with the music. The music system gives the dealer a setting that regulates the number of songs that play between each announcement. Showroom visitors are greeted with brief voice announcements and current promotions are highlighted at regular intervals. Many dealers at the JDUG summit have expressed interest in this new music system, which is offered on a free trial basis.
Conclusion
In all, the JDUG 2016 summit was another rousing success, as dealers from all across North America shared ideas and learned new ways to build a better Deere business.