Easy On Hold, creator of streaming music on hold/queue music for contact centers has been named a Genesys Technology Partner. In addition, the EOH Genesys Cloud App and Streaming Queue Music solution for Genesys Engage and Pure Connect are listed in the Genesys App Foundry.
The need for multichannel communications platforms has never been stronger. A leader in customer engagement solutions is Genesys, makers of Engage, Genesys Cloud, and PureConnect platforms. The $2 billion Daly City, California-based company, founded in 1990, provides complex contact center software. The Easy On Hold integration on Engage has been adopted by large platform users (as large as 88 MCPs) since 2019. The Genesys Cloud App was launched in October of 2022.
Easy On Hold audio for Genesys Cloud
Easy On Hold for Cloud CX is a simple and useful tool for making professional audio available in your Cloud CX application.
The new hold music app makes audio file management easier and faster so that timely and effective messaging can be presented in the call queues. The approach to cloud hold music is quite simple. Communication teams access their Easy On Hold dashboard to request custom on hold messages and auto attendant/IVR prompts. In 3 business days, your audio is complete – just click one button to send completed audio files into your Genesys Cloud CX prompt bank.
Now, IT admins have instant access to audio content to use when updating the caller experience audio. You no longer need to download and email audio files, handle spreadsheets and word docs, or write and record scripts yourself.
"Easy On Hold™ gives you the power to deliver amazing caller experiences, without all the hassle," said Easy On Hold's Keegan Brown, who headed up the app development.
Innovative Streaming Queue Music Audio Solution for Engage
Easy On Hold's Streaming Queue Music solution is a powerful streaming audio solution for contact centers searching for ways to improve caller satisfaction. Streams replace repetitive, inflexible queue music and messaging with automated, easily managed streams of custom audio content. Curated licensed music (including popular artists) and carefully timed announcements create meaningful, differentiated caller experiences. SQM significantly reduces time spent managing audio files and eliminates the risk of playing out-of-date messages. View EOH Streaming Queue Music on App Foundry.
"Our solution for queues and agent-hold has been tested and approved for full integration with Genesys Engage and Pure Connect. If you're looking for an exciting caller experience with hit music, indie music, and spoken content that can be played and paused live or be scheduled in advance, and scaled to grow with your organization, look for Streaming Queue Music™ by Easy On Hold® in App Foundry."

Tim Brown, EOH founder and vice president
This innovative solution enhances and maintains quality customer experiences in the contact center queue, which was historically limited by the requirement to use static audio files.
Streaming in-queue audio messaging can be aligned with caller profiles and various stages in the customer journey.
Prerecorded emergency or "standby" announcements can be launched with a single click in the Easy On Hold Cloud Customer Portal.
Genesys Engage Platform Integration
One or more streams generated by the EOH Cloud Streaming Server are processed by the Streaming Queue Music™ appliance (cloud or premise). Genesys Engage supports HTTP Live Streaming (HLS): treatments are applied on a Routing Point when a call on the DN is placed on hold, or when a call is waiting on an ACD Queue. To use this feature, SIP Server must be integrated with MCP version 8.5.161.34 or later.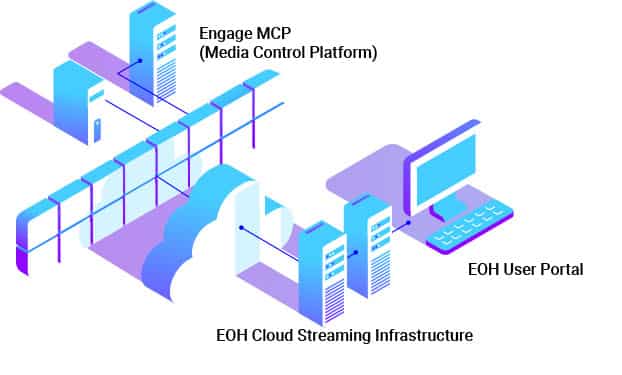 Cloud Delivery
Marketing and business development teams log in to the Easy On Hold user portal to configure all content (schedules, message priorities, music selection, etc.). The EOH Cloud Streaming Server generates customized streams.
Music and voice content can be developed by Easy On Hold or provided by the contact center. Contact centers should consider customizing streams with music that supports the brand image. Easy On Hold offers fully licensed music, including popular mainstream music. Another benefit of streams over files is that streams allow an unlimited number of tracks.
The streaming approach does away with the well-worn audio loop of music with the same topics in the same order. Instead, individual topics play randomly, removing the predictability that often causes "hold time" to be perceived as longer than it is. Voice scripts are brief, crafted "for the ear" and managed by automated start and stop dates. Time-sensitive or high-priority topics can be set to play more often than other messages.
Streaming Queue Music for Engage Technical Notes
Streams are generated by a proprietary EOH streaming engine and transcoded with a specific protocol for Genesys Media Control Platforms (MCP)
MCP handles streams as MOH resources assigned to skills.
Multiple MCPs can accept the same stream or unique streams as needed for effective caller experience management.
The use of caching web proxy servers on-prem will reduce incoming traffic.
Alternatively, SQM can be used as an on-premise solution (on VMware).
If necessary, MCP can failover to static, local audio files and attempt stream re-connection.
SQM is load balanced to provide redundancy.
Stream status and connectivity are continuously monitored.
Logging and monitoring are viewable in SQM dashboard (where made available).
Volume and audio EQ can be modified in SQM.
Innovation Motivated by Customer Experience
Easy On Hold contact center clients are more interested in improving the customer experience than ever. Experts agree that customers stay loyal to a brand as a result of the experience they receive.

A SuperOffice study found that customer experience will be the top priority for most businesses in the next 5 years (see above graphic). Customer needs are rightfully receiving ultimate priority in today's business strategy.
Brands need modern tools to quickly and efficiently satisfy customer needs, which is why contact center technology is more important than ever. Platforms such as Genesys Engage bring together multiple customer touch-points (chat, social, voice, etc.) to accommodate customers regardless of the communications channel they choose. Still, the channel of choice continues to be voice (the phone).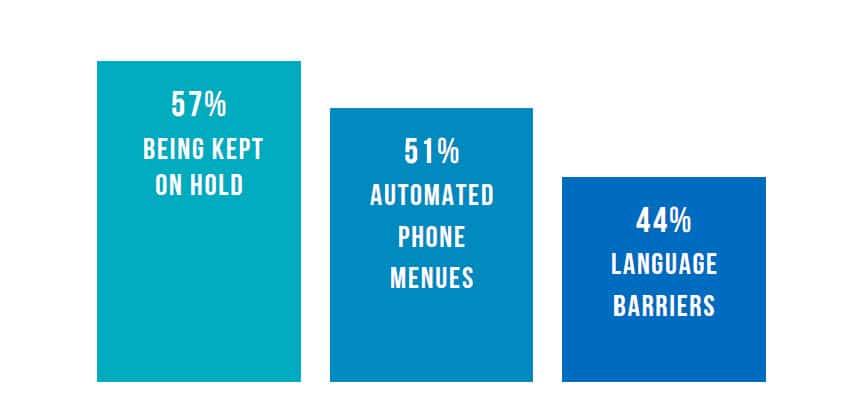 A 2019 Clutch Survey concluded, "Nearly 9 in 10 people (88%) prefer speaking to a live customer service agent over a phone menu, indicating the importance of a human touch." And that was before the COVID-19 pandemic made face-to-face interaction obsolete, causing spikes in call volumes and epic hold times. 86% of consumers say they have to wait on hold every time they call a business (as reported by talkto.com).
Contact centers must reassess the way callers are brought into queues and held while waiting for the human voice they desire. The importance of the customer experience is on the rise. There is still a significant consumer preference for the voice channel, and call-on-hold time is inevitable.
There's been a major move to chat, email, and other channels. But COVID-19 has shown the importance of voice as a channel, and for most organizations, voice isn't going away. COVID has highlighted a new need for contact centers to be resilient. And nothing is more resilient — or faster to respond to changing problems — than an agent on the phone.

Craig Robinson in the Genesys Blog
Streaming Queue Music Replacing IVR Announcements Inserted Over Hold Music
In most communication platform designs, the customer journey begins with an automated greeting. Next comes queue audio, (not the "on hold" audio), typically a background music file that repeats. We've all heard the common IVR announcements, such as self-help options and "all agents are busy" messages. These announcements "barge in" to interrupt the music. Subsequently, the experience sounds like a queue. It is what we think of when we think of waiting for an agent.
Why replace the typical IVR/queue voice interruptions over a background music track? The common format brings to mind countless unhappy experiences.

Tim Brown, Easy On Hold Founder
Using the IVR voice engine for hold messages has drawbacks.
Voice recordings are intrusive, abrupt and unprofessional
Music is limited to "royalty-free" sound; the best music is licensed
When background music "loops" or repeats, callers feel their hold time is longer than it is
IVR announcements often fail to address caller needs; lack of customization
Voices and voice quality change throughout the caller experience, causing concern
IVR announcements are owned by the contact center, not marketing or business teams
IVR announcements are often programmed with no plan to change and update
Download the report: STREAMING QUEUE MUSIC FOR GENESYS ENGAGE, An Investment In Customer Experience