Your business could be using custom on hold music for Avaya IP Office phone system. By "hold music" we mean music with voiced information that helps caller while they wait.
You can stream hold music into Avaya IP Office with a device
An external streaming audio device is included in the Easy On Hold streaming music on hold service. The device is called a 2-Channel Business Audio System (or 2CBAS for short). It is like an internet radio that "listens" to your custom marketing on hold stream. What's great about this device is that it provides live streaming audio into your Avaya IP Office platform. This means there are no audio files to manage, upload, change, etc. It also means your marketing department can simply log in to the Easy On Hold Content Control Panel and quickly handle the scheduling of everything callers hear while on hold. Hold messages are always current and changing.
How the streaming device plays hold music for Avaya IP Office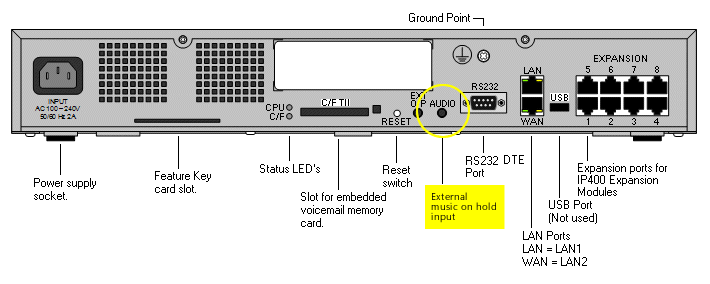 Your Easy On Hold streaming audio player sends audio down a cable from a (mono) RCA jack output to the Audio Port on the Avaya Server. (See the jack labeled AUDIO in above diagram of an Avaya IP Office 500.) This port is found on the rear of all IP Office control units, and is a 3.5mm stereo jack. Easy On Hold will provide the correct cables and plugs for your Avaya Office IP server.
Configure Office IP to play from the external source
If your IP Office has an internal music-on-hold sound file, any input from the Audio Port will be ignored. The IP Office can be forced to use the external port and not download an internal music on hold file by selecting Use External Music on Hold (System | Telephony) and restarting the IP Office.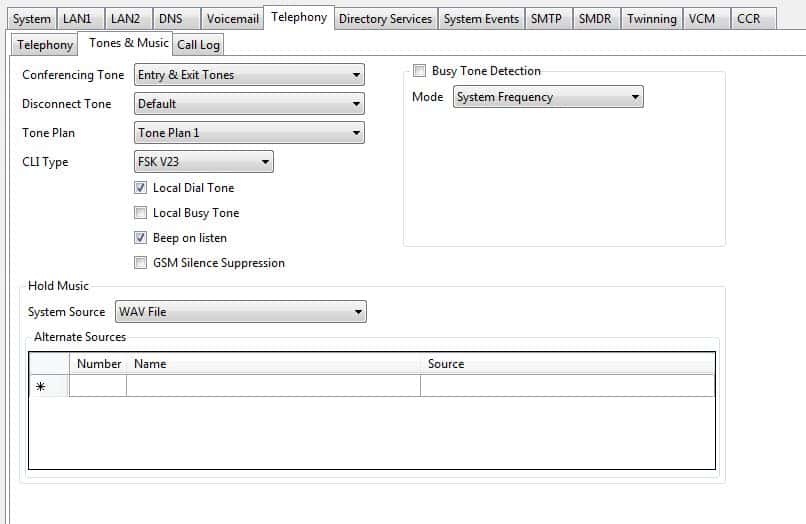 As with many systems, the Avaya IP Office must be programmed to activate music on hold from the external source. The following instructions are provided by Avaya.
On the Manager application go to the System and select the Telephony tab.
You then need to select the sub tab "Tones and Music". On this screen you can see the section Hold Music and the first option is to choose the System Source. If you drop down the option box you can see the three different options.
Change the System Source to External and plug the device into the Audio Port on the back of the IP Office system.
NOTE: The system will need to be rebooted to make this change.
Test the music on hold source by pressing *34 on your phone. You should hear the same audio that is coming from the music on hold device.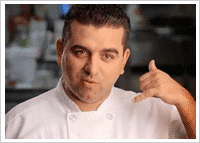 Carlo's Bakery, please hold
Avaya IP Office is a flexible IP (internet protocol) based phone system that supports 5 to 1000 employees at a single site with mobile and video integration possible. Avaya has produced several videos to go along with case studies focusing on growing businesses, including the famous Carlo's Bakery featured on TLC-TV's show Cake Boss. "We had an old phone system and it was like, 'Carlo's Bakery please hold'," says bakery owner and star of Cake Boss, Buddy Valastro. Avaya IP Office can't eliminate caller on-hold time, but by integrating mobile users and additional extensions (up to 1000 users at a single site), calls can be connected more quickly.
Streaming Hold Music for Avaya Aura Media Server
If you're upgrading your platform to the Avaya Aura Media Server (AAMS), you must visit our application notes from the streaming hold music solution provided by Easy On Hold. Avaya Aura Media Server Streaming Queue/Hold Music Documentation – Easy on Hold Knowledgebase
Easy On Hold is not responsible for the performance, installation or operation of equipment we do not sell. Articles about equipment are for educational purposes only and do not constitute an endorsement of any make or brand. Easy On Hold makes no claims or warranties regarding telephone equipment of any kind.