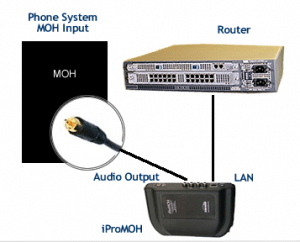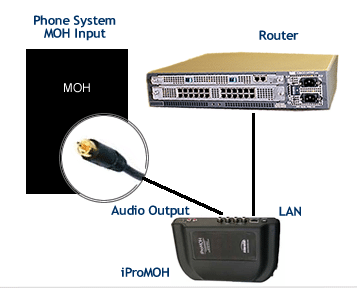 What's the Best Way to Play Music On Hold Messages?
If you're looking for a one-sentence, simple, one-size-fits-all answer, you won't find it here. While some music-on-hold-messages providers are dazzling you with hundreds of voices from around the world, few have the experience to answer your number one question. As a leading provider for over 17 years, we'll take that question and lay out some options for you. So, with that, let's get into the Q & A of how to play music on hold messages.
Q. How does the music on hold get into my phone system?
A. There are three options for getting music/messages on hold (MOH) into phones. External device. The external device can be an on hold message player that uses a USB memory drive, or it can be the on hold message player that connects to the internet. External devices connected to the internet allow updating of multiple sites from our studio, to relieve your tech team of changing files as content changes. Easy On Hold also offers the digital internet radio type of external device, which listens to a live audio stream (described below). Internal audio file. Many phone systems, such as those designed by CISCO will use an audio file as the music on hold source. Unfortunately, these files are not convenient to change frequently and often play from the beginning of the audio file every time a caller is placed on hold. http stream. Phone systems by OnSIP and Asterisk do not need equipment, but can be programmed to use a live http .mp3 stream for on hold content. Easy On Hold developed the first streaming messages on hold experience (similar to Pandora or Netflix). A live music on hold streaming channel is completely customized for the time of day, days of the week, etc. and can be controlled remotely by the user or the Easy On Hold production studio for immediate changes. The added convenience of being able to monitor your on hold stream from a phone, tablet or PC is appreciated, too.
Free Music On Hold Equipment Available
The Easy On Hold annual plans are all-inclusive. That means you don't pay for the equipment. It becomes the responsibility of Easy On Hold to provide equipment that works best for your environment. Therefore, there is no cost consideration between types of hardware.
Q. Does it matter what kind of phone system I have?
A. Yes! While we are accustomed to working with non-technical on hold message buyers, such as office managers, marketing department officials and business owners, at some point the question of "What kind of phone system?" needs to come up. Since there are now hundreds of phone systems, including hosted VOIP (voice over internet protocol) telephone service providers, the more information you have about your own phone system, the better.
On-Site vs. Off-Site
An on-site phone system is one with a "control box" in your building. Much of the time there is an input jack on the box (or one can be provided) for the use of an external music on hold device.
An off-site phone system is a hosted VOIP system. The only equipment at your site would be phones and a router. The phone functions happen "in the cloud". While this may sound good, it does limit your access to quality on hold messaging. Most hosted systems require files to be uploaded. Control over how the messages play is limited. All changes must be made manually.
Q. I have call waiting. Is there a way to use music on hold with that?
A. No. Music on hold messages will work with almost any phone system, but for sure it will NOT work with "call waiting". If you have call-waiting, you must remove it in order to use a music message on hold.
Q. I purchased phones at the office supply store, so there is no place to plug in music on hold. What are my options?
A. You should talk to your Easy On Hold music on hold expert about available telephone on hold adapters, such as those built by Skutch Electronics. Use our search tool to discover the type of adapter that can be added to your phone to allow music and messages to play. The adapters do not generate audio, but allow audio from a music on hold player to go through to your callers while they are on hold. Magic!
Q. Is there a separate on hold message for the different lines or departments of my company?
A. Possibly. Phone systems sometimes (rarely) provide "on-hold architecture" that allows "hold segregation", the practice of assigning unique audio content to specific lines. For example, someone on hold for the billing department can hear announcements about easy web bill pay, while those on hold for technical support can hear messages about new tech blogs. Most phone systems, however, do not provide segregated hold but rather a single input for one external device. In this case, every call placed on hold listens to the same audio at the same time.
Q. Does each caller hear the message from the beginning when placed on hold?
A. The messages from an external device play continuously and all callers on hold hear the same audio in progress. Some phone systems that use internal audio files (or audio files you upload into the system) do play the audio from the beginning each time. The trouble with this is that most callers are on hold for only one minute. All callers will hear the same minute over and over, creating message burn-out. If a caller is placed on hold twice during the same call, they'll hear the same audio all over again. Yuk!
Q. Is there any way to tell how many of my callers are placed on hold, and for how long?
A. Call centers typically use customized software for call routing, recording, monitoring and to collect call data such as length of call, support personnel behaviors and length of hold time. Without that feature, a phone system is unable to report hold time. We have worked with some businesses that have collected non-scientific data regarding number of calls and hold and length of hold time. As you can imagine, it varies between types of businesses, callers, departments, or even days of the week. Surveys report that about 70% of callers experience hold time, but as they say, "your mileage my vary".
Q. I am thinking about an internet connected messages on hold player network for my many locations. How much data is pulled over the internet when these units update? Do you need access to my network? Do you configure the connection time for each device?
A. These are great questions from an actual customer. The Interalia iProMOH (http://www.interalia.com/imcm.php) and (https://easyonhold.com/support/iProMOH/)  is what we refer to as a "capture and play" device. The audio is stored on the device at each location and plays from an on-board flash memory. In order to allow automatic changes and updates, the iProMOH connects to our server hourly to synchronize content. That "pull interval" is configurable to any number of hours or days. When it does so, it does not load content that is already stored locally on the device. It merely checks to see whether audio or instructions have changed. These check-ins take less than 30 seconds in most cases. The iProMOH works at half-duplex and uses the internet very little over time. The software that manages the iProMOH devices allows multiple simultaneous connections, of course. We can set the connect-back time of day and interval.
Q. The streaming music on hold internet radio stays connected to the internet, right? What kind of bandwidth are we talking?
A. The Easy On Hold custom music on hold messages stream tests out at about15Kbps to 20Kbps, so it's lightweight. The .mp3 stream runs at 128K mono. This is less than someone in your office listening to Pandora (192K stereo). Each radio provides one stream in the form of an audio output (8 or 600 Ohms) for use in your onsite PBX.   Got a question like "How does music on hold work?" or "Can I play music legally on my phones?"  Hey, we know this stuff. We live it every day! Please ask. Contact Easy On Hold with your questions and you'll get helpful, detailed answers.