So you're asking everyone to 'Like' You on Facebook, right? You're tweeting, you're connecting on LinkedIn, blogging on WordPress, snapping photos with Instagram, and loading videos on your own YouTube and Vimeo channels. After all, a high profile on the Internet will help deliver more web traffic, more phone calls, more referrals–and that means more business.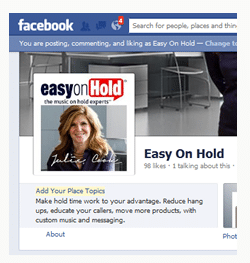 But along with the wins can come some real punches in the gut–your Facebook wall gets peppered with sniper fire by an angry customer or two or 200, or your company name becomes an unfortunate hashtag on Twitter (with some brutal tweets). Do you duck and cover, or simply embrace it with open arms, doing what you can to turn the conversation back around your way?
Embrace it say experts at Kalamazoo Valley Community College, a long-time Easy On Hold client and one of the most marketing-savvy community colleges we see in action. Steven Cook, KVCC Social Media Strategist, says the college had been a topic of frequent conversation on the Internet. Only, the college wasn't doing much of the talking.
"We knew we needed to insert ourselves where we could by answering student tweets about registration times or financial aid, for example. And of course, trying to calm the angry rants that are bound to happen with any institution of our size," Steven says. "We can post a response on a Twitter conversation that clarifies a misunderstanding or points a student in the right direction with college administration. Who better to jump into the conversation than KVCC itself?"

Steven admits it's easier to do with Twitter than Facebook.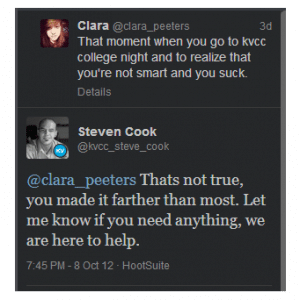 "With Twitter we can talk to one, to many, or to all of our followers, something you just can't do while managing Facebook pages," he says. "We have been able to use Twitter as a tool in customer service, student recruitment and retention, news and events promotion and more. It gives a real sense of what conversations are happening around our school's brand. Students don't even have to talk to us; we can find them if they just talk about us through Twitter searches."
Steven uses HootSuite to easily manage the internet chatter at a glance. [Editor's note: Hootsuite recently acquired Seesmic, another popular social media content management service, and is going to a paid platform. A free alternative is Tweetdeck (screenshot to the right).]
Jim Belosic of Social Media Examiner (one of the best sites, in my opinion, for learning how to conquer social media), agrees that standing tall is the best strategy when an angry post finds its way to your Facebook page.
"Your next steps are key to retaining not only the business of the angry customer, but the business of other fans who like your page as well," Jim says. In his 7 Tips for Dealing with Upset Facebook Fans, Belosic says the #1 response is to give a response, no matter what. "Inactivity on your part will appear as though you're trying to ignore the issue and sweep it under the rug," he writes. "Being unresponsive does nothing more than incite more anger and increase the chance the user will come back with even more angry wall posts." 
No article on handling angry customers would be complete without mentioning on hold messaging–talk about managing the conversation! A carefully crafted and voiced script with music can help diffuse angry or frustrated callers while you put them on hold to attend to their problem–but make sure your script is honest and helpful (as opposed to fluffy and grandiose).
Let's say you offer dedicated customer service or technical support lines: our callers already have questions or are having some kind of trouble. Chances are they're anxious or frustrated. In these situations, we know the following approaches work:
1. Know how long callers are holding. If your hold times are longer than 4 minutes–or can be at peak times–your productions must be long enough so the caller doesn't get tired of hearing the same thing over and over. It's okay to repeat a call to action or time-sensitive message, but rephrase it a few different ways. Mix up the voices between male and female, and keep the music lively.

2. Don't talk their heads off. The caller needs time to listen and think about what you're saying, so offer a pleasing balance of 20-25 seconds of talking, with an equal amount of music. This is not an exact formula and will vary from business to business, but it's a good one to shoot for.

3. Help them solve their problem on their own so they can hang up in a good mood. Suggest they visit a specific page on your website for returns, or some easy fixes to try on their PC.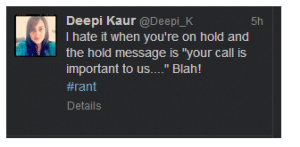 4. Skip the "your call is valuable" platitudes. Callers don't buy it. If the call was important, you wouldn't have placed them on hold. We know you're simply trying to convey that you care, but it's pre-recorded and they know it. Callers feel important when they're getting help (see #3 above).

5. Change the music after 4 minutes. Your goal is to create the perception that the hold time is shorter than it is. A variety of music tracks can do the trick beautifully. If you have repeat callers, this can really help. Every few weeks, freshen up the content.

How do YOU manage angry customers online and on the phone? If you're willing to share your tips, I'd like to share them in my next post. Email me your experiences please.