Your car dealership needs a variety of marketing strategies to build trust and help customers choose you. Here are some tips for your automotive dealership.
Build Trust & Connect With Potential Clients With The Right Digital Car Dealership Marketing Strategies
As you know, the automotive industry has experienced several disruptions in the past years. If you are an owner or operator of a car dealership, you need to use smart, affordable marketing strategies to attract new customers and keep current customers happy.
In addition to building trust, the right marketing can guide potential customers through various paths. Whether they are car buying, looking for a test drive, or need repair work, auto dealers can use a variety of digital marketing strategies to connect with car shoppers and secure more sales. 
Let's look at seven car dealership marketing strategies that you can use to connect with your potential customers and streamline the sales process to ensure the success of your car dealership today!
1. Send Regular Emails To Clients
Email marketing is one of the best marketing strategies that your car dealership can use to stay connected with car shoppers (even after they purchase from you).
Think about it: how long have you used the same email address? Your target audience typically keeps the same email address for many years, too. Customize your email marketing strategy based on seasonality, services you offer, and other helpful information to engage with car buyers. Here are a few email marketing strategies that you can adopt to stay connected with your target audience:
Seasonal emails: Send emails throughout the year based on the needs of your customers. For example, you can send emails that talk about winter driving tips during the months leading up to the winter season. This keeps you relevant with your audience and allows you to pitch additional service reminders as needed.
Service reminder emails: Many car dealerships rely on maintenance to drive revenue, and you can help your sales and marketing efforts by sending timely reminders to customers throughout the year for routine maintenance. For example, you can send email notices every few months reminding customers to get their oil changed or to rotate their tires.
Blog posts: Blogging is a great way to build a relationship with your target audience, and you can send an email reminder to your customers each time you publish a post on your blog. This can help drive more traffic to your site and build awareness about other products or services that you offer.
There are countless ways to use email marketing to ensure you engage with your customers and drive more traffic to your site. The right email marketing campaign can help improve the customer experience and boost your overall sales throughout the year.
2. Build Trust With A Blog
Publishing educational content on your blog is one of the best digital marketing strategies to ensure you stay relevant with your customers and boost engagement on your car dealership website. You can use a blog in many different ways, but building trust with prospects is one of the best ways to utilize this tool.
Blog posts can help you streamline the buying process for car buyers as they search for different automobile dealers in their area, and you can use blog content to build a relationship with potential customers.
When they learn about how you care for your community and that you are an expert in the industry, your audience will gain confidence in the fact that they will receive excellent service after buying a vehicle.
3. Customize Your On Hold Messaging
You need to do everything you can to optimize the customer experience whenever prospects interact with your company, which includes making the customer experience as positive as possible when customers call. Messages On Hold Scripts should be brief and timely, to promote service, parts, and sales.
You can use on-hold messages to share important information regarding services offered at your dealership, talk about upcoming events, and highlight the operating hours of different departments. This information can help educate your customers while they wait to talk with personnel and helps address common questions that can come up throughout the conversation. Not only that, but it differentiates your dealership from all the others who use boring default music and generic hold messages that aren't updated.
Sample some great car dealer marketing on hold messages made by Easy On Hold.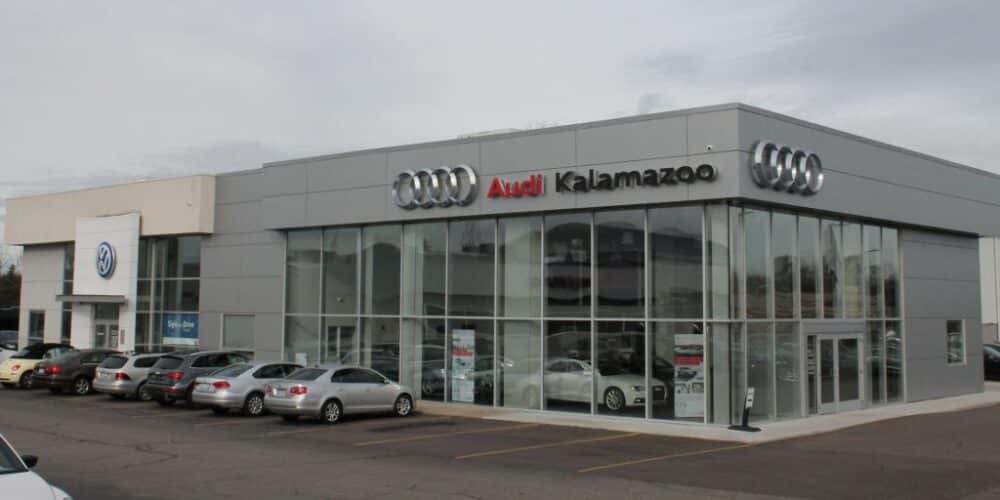 4. Focus On Local SEO
Since your car dealership likely serves customers in a specific geographic area, you can focus your marketing efforts on local SEO (search engine optimization) to get the most out of your car dealership marketing strategy.
Local SEO is important since car shoppers look for solutions in their area, so optimizing your Google Business Profile (formerly Google My Business) can help you stand out from the competition. Make sure you add a generous amount of positive customer reviews and testimonials to your car dealership website and Google Business Profile to show potential customers that they can trust you for their car buying needs.
Local SEO can help you reach your target demographic by helping you show up on Google and other search engines as people look for a car dealership near them. If you are looking for ways to improve lead generation in a geographic area close to your car dealership, then local SEO is one of the best marketing ideas you can use today!
5. Create A Referral Program
You might be tempted to focus entirely on the automotive side of the dealership, but you must remember that there is an entire customer service side of your business that can help you drive more sales. You can utilize a referral program to encourage existing customers to share their experiences with their friends and family, which can help you build new customers throughout your dealership.
A loyalty program is a great way to reward current customers for telling their friends or family about your business. It's also an excellent opportunity to get more qualified leads in the door and talk to your salespeople who ultimately want to make as much money as possible.
6. Engage Customers On Social Media
Social media engagement is a crucial component of any outstanding dealership in today's digital era because it helps you connect with people in a natural and meaningful way online. Many people shop online, and you can build a relationship with prospects looking for a new car or other services by interacting with your audience through fun posts that might catch their attention.
These tools help bring potential car buyers into the dealership, but it also gets them active on your website, leading to a conversion.
You can publish posts on social media based on your blog posts, and you can even upload customer reviews to help build social proof that your services are trusted and enjoyed by past clients. Be sure to think about how you can build a relationship with potential customers as you post on social media networks and customize your content based on the needs of your customers on each platform to drive results!
7. Encourage Customers To Write Reviews
Social proof is one of the strongest marketing tools that you can use to boost sales, so it's important to publish testimonials and reviews from past customers on your dealership website whenever possible.
Not only do customer reviews demonstrate to potential customers that they can trust you, but they are also a powerful way to overcome the negative perception that many buyers have about the auto industry. You can show your audience that they can trust you by highlighting the positive things customers have to say about your dealership and how your staff helps car buyers find the right automobile for their needs.
Be sure to collect and share positive feedback and testimonials whenever possible in all of your marketing strategies. This approach can help set you apart from your competition and result in more sales over time.
In Summary
An effective automotive marketing strategy increases sales with improved lead generation, engages with existing customers in a meaningful way, and solidifies your brand in the minds of your target audience.
By utilizing the ideas above, you can strengthen your customer base through better marketing efforts to ensure you reach a wider audience and continue to build and strengthen your customer base even after they purchase a vehicle from you.
Car Dealership Marketing FAQs
What are the basics of car dealership marketing?
Marketing your car dealership is all about making an impression, and these days people are looking for anything that will stand out. contests/giveaways can do just that by giving you the opportunity to be creative with potential customers who may have been considering other dealerships.
How can a car dealership target an ideal customer?
The car enthusiast is a highly targeted audience segment. This group of consumers has people who are looking to buy an automobile and they do so by frequently visiting automotive-related websites such as dealerships or review sites, among others in order to find out which vehicle best suits their needs.
How do I make my brand successful?
The way you communicate with your customers is important. The tone of voice should be friendly, optimistic, and energetic in order for them to feel like they can trust what's being said or shown about their product/service offering from a company that has an authentic personality that matches the target audience it seeks out.