The organizations responsible for collecting fees for music publishers have been stepping up their collections activity, sending letters, making phone calls, and even showing up in person to business establishments. If your business has been contacted by a music licensing group, you may be wondering about Music Licensing For Business: Is it Real or a Scam?
Who are these music licensing groups?
In the US, there are four performance rights organizations (PROs) that collect fees for "public performances" of music they represent (their catalog of songs). Their job is to collect payments from businesses that use their music. For more on PROs, jump to what is ASCAP and BMI anyway?
"A public performance is one that occurs either in a public place where people gather (other than a small circle of a family or social acquaintances). A public performance is also one that is transmitted to the public,"

ASCAP Licensing
If you play music on your phones (hold music) or in your environment (overhead, background music), you are conducting a public performance of copyrighted material. Therein lies the answer to the question, "Why should I pay a fee to play music in my business?"
Music licensing for business is real
Any business that plays music is responsible for two types of licenses: one for the composition of the song (musical work) and the other for the recording of the song (sound recording). It is true that there are fines for playing music without a license. If your business is playing music on hold and/or as background music in your physical space, you will need to pay for both the musical work (public performing right) and the sound recording (reproduction license). As you can see, music licensing can be a confusing matter and requires some research. One thing is for sure: you don't want to be caught playing music without the proper licenses.
"If the music sound is clearly audible in the space designated for customers, the playing most likely infringes the [music] owners' exclusive public performance rights in the sound recordings."

Palo Alto Area Bar Association
What if I don't pay ASCAP and BMI for music in my business?
There are many instances of PROs (ASCAP, BMI, SESAC) requesting fees from businesses that are taken by surprise by a collections letter. One business told us, "I am constantly being billed by ASCAP and accruing late charges…" Is it legitimate? Yes, ASCAP and other PROs definitely do ask for licensing fees, whether or not you are using their music. They generally make the assumption that you are using music for overhead listening or on your telephone hold button and send a letter asking for fees.
Here's an example of a strongly worded letter received by a business that was playing music on hold that ASCAP thought was not licensed. As it turned out, this small business had a contract with Easy On Hold, the hold music company. Easy On Hold representatives quickly contacted ASCAP to confirm that the business in question was properly licensed.

San Francisco Chronicle reporter T.J. Jacobberger recalls that as a young restaurant employee, he received a call from ASCAP asking for licensing fees. He says, "About a week later, our restaurant received a demand notice for payment of fees to ASCAP."
A New York Times article on music licensing says, "a significant portion of BMI's business is to "educate" and charge — by phone and in person — the hundreds of thousands of businesses across America that don't know or don't care to know that they have to pay for the music they use."
How to properly license music on hold and background music
What kind of music does your business use? Phone on hold music? Overhead background music? You could attempt to line up license agreements on your own, but the do-it-yourself approach is time-consuming and tedious. An easier way to handle music licensing for business is to use a provider that charges a single monthly fee to you while paying all of the required licensing fees on your behalf. "What about royalty-free music? Isn't that free?" you might ask. Remember, all music is copyrighted, owned by composers, publishers, and recording companies, and must be licensed.
What is ASCAP and BMI anyway?
ASCAP
ASCAP and BMI are performance rights organizations (PROs) that collect fees for public performances of songs written and published by their members. There are many such organizations, including four major PROs in the United States and many others throughout the world. The oldest is ASCAP, The American Society of Composers, Authors and Publishers, founded in 1914 by a group of songwriters and publishers in New York City. They were the writers of "tin pan alley" music, including Irving Berlin, John Phillips Sousa, Jerome Kern, and George M. Cohan. It wasn't practical for individual songwriters to collect fees from radio stations and performance halls, so ASCAP was formed to collect fees and distribute them accordingly.
BMI
In 1939, The National Association of Broadcasters, decided ASCAP's fees were too high and formed BMI, Broadcast Music, Incorporated, as an alternative. BMI was the first organization to represent blues, jazz, county, folk and gospel composers. But who represented European composers in America? That was SESAC.
SESAC
SESAC (we say it, "SEE-sack") is the Society of European Stage Authors and Composers, founded in 1930. By the 1940s, SESAC began licensing works outside of Europe and, by 1960, had an office in Nashville, Tennessee.
Global Music Rights
And yet, there's more! In 2013 music executive Irving Azoff formed GMR, or Global Music Rights. The GMR catalog is much smaller than other PROs (50 to 60 thousand titles), but represents some of the biggest stars in the business, including Drake, Harry Styles, The Weeknd, Bob Seger, Smokey Robinson, Daryl Hall and Pharrell Williams.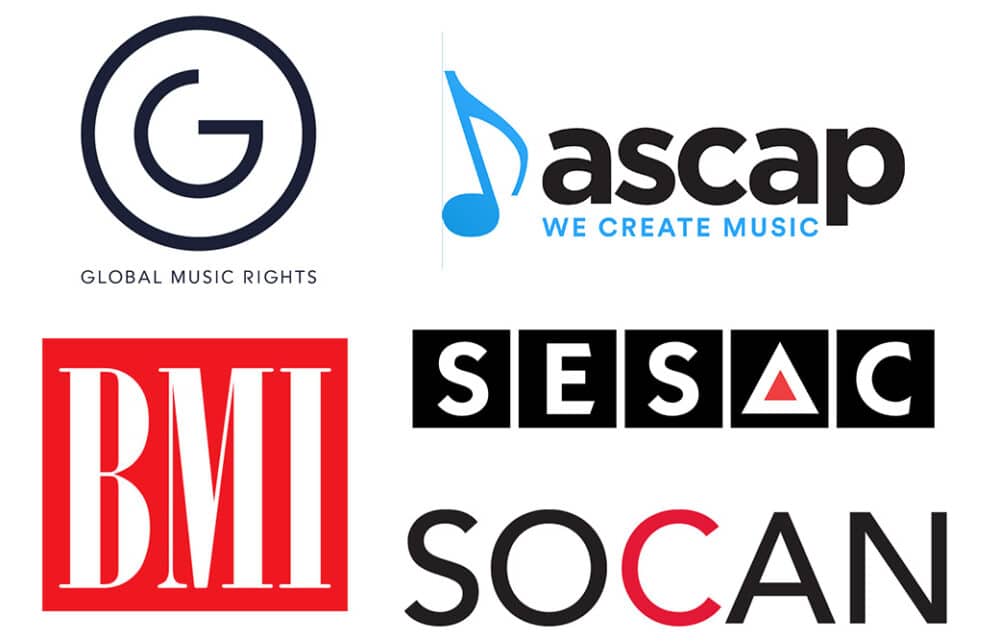 Are there any exceptions? Yes.
Broadcast radio and tv
The only exception is for broadcast radio and tv in businesses under 2000 square feet (3750 square feet for restaurants). Note: this rule applies only to "over-the-air" broadcasts, not internet streams or any other source of music. You'll also be playing any DJ banter, unfiltered lyrics, and commercials for your competitors. Plus, there may be additional fees based on your type of establishment. For example, if you own a restaurant or bar that features live music, if there is a fee for entering your establishment, or if there is a physical activity coordinated with the music (such as public skating or dancing).
Royalty-free music
So-called "royalty-free" music producers are plentiful, but what does "royalty-free" mean? It could mean you have the right to make a copy of the music and play it on your phone. It might mean you have the right to perform the song to your callers. However, it may not. Not only is "royalty-free" music likely not free forever, but it is typically not great music. Royalty-free hold music comes in many flavors, but mostly vanilla.
How to tell a real PRO music licensing fee request from a scam
If you have received a letter or email asking for music licensing fees, take some time to do a follow-up with ASCAP, BMI, GMR or SESAC.
Do not respond to an email or open any attachments to an email that comes from an unfamiliar source.
Legitimate PRO licensing requests will come in the mail, in writing.
You will be given an account number for reference.
Call ASCAP at 1-800-505-4052, BMI at 800-925-8451, GMR at 1-844-827-5467, and SESAC at 1-800-826-9996. Provide the account number and your business name as a test
If you are in Canada, contact SOCAN at 1 866-944-6210
Example of a business music licensing scam
Recently, a friend received an email that appeared to come from PPL, a PRO in the UK:
Dear Customer,
Please find attached your PPL invoice for your license to use recorded music (whether via CDs, Radio/TV broadcasts, background music systems or other sources) at your premises.
Permission to use PPL repertoire under the terms of the licence will only be effective once payment has been made. Payment of your invoice can be made online at ppluk.com/payonline or you can call us on 020 7534 1070 to pay by credit or debit card. All payment methods can be found on the back of your invoice.
This is an automated email. If you have any queries about the invoice or requirements for a PPL licence, please refer to the contact information below.
Yours faithfully, PPL Customer Services
First of all, he does not do business in the UK and, therefore, does not have to pay PPL. Secondly, the email included an attachment that looked like a word document. Opening attachments from unknown sources is a bad idea; the PROs know this. They are not likely to send a document in an email unless they have spoken to you in person first.
Decision time: pay now or later?
No matter how big or small your company may be, you will need to make a decision regarding music licensing for your phone-on-hold audio as well as music played in your space.
In view of the potential risks of an infringement lawsuit and the cost associated with litigation, which may run in the tens of thousands of dollars, the better course of action may be to enter into a licensing agreement with the PRO.

Palo Alto Bar Association
But there is another, more affordable solution you should consider…
Solution: use a music provider that pays fees for you
Easy On Hold enters into a music license agreement with the creators of high-quality music for phone on hold music. When your company uses Easy On Hold as the source for your music on hold, all performance licensing is covered. In addition, Easy On Hold covers the licensing of the sound recordings as well.
For overhead background (in-store) music, Easy On Hold represents Brandi Music, streaming music for business. Brandi Music covers all licenses, and explains on its website that it "is a simple solution that relieves your business of the legal liability of playing copyrighted material."
Pandora, iTunes And Other Illegal Ideas For Playing Music In Your Business
A quick trip to the Pandora terms of use page will tell you, "…Pandora is for personal use only. That means you can't play Pandora for the patrons in your bar, coffee shop, etc." There is a business version available, but it does not offer many of the most popular Pandora features and requires a proprietary listening device. Spotify also says, "The performing rights must still be paid".
Audio CDs or mp3s? Not legal, because you are still "performing" the music, for which there is a separate license fee on top of purchasing the audio (in any form).
Personal satellite radio subscriptions are also not legal. Like other services, a business-only version is available for a higher price.
Of course, you could simply do nothing. But after reading this article about a business that was fined $30,450 for playing four "illegally played songs" plus $10,700 in legal fees, you'll probably think again.
Summary and conclusion
Music licensing for business is a real thing, although there are scams that could try to fool you. The best protection against scams and infringement is to talk with a professional music licensing organization such as Easy On Hold. Performance rights organizations (PROs) are aggressive in attempting to collect fees. Those fees pay composers and publishers for your public performance use of copyrighted music.
Alternatives such as royalty-free music and personal music services such as Pandora may not give you full protection against a claim of copyright infringement and are not recommended.
For more articles on this topic, please read Blog articles on Music Licensing by Easy On Hold.
Entrepreneur Magazine: What You Need To Know About Music Licensing For Your Business