A Happy Jingle For Your Business!
Do you hear what I hear?
Yes, that's Christmas Music. We love Christmas music (most of us), which is why the holiday tunes start playing earlier every year. Radio stations in Michigan were playing "Rockin' Around The Christmas Tree" on November 6th and won't quit for at least 7 weeks. A station in Alabama started playing Christmas music a full week before Halloween. Businesses should use Christmas music on hold because it makes us feel good and buy more.
Terrie Schwartz, Marketing Director for Wedel's Nursery, Florist and Garden Center in Kalamazoo, Michigan uses a streaming retail music service from Easy On Hold to keep customers humming. She also has custom music on hold messages as part of the overall marketing play. Terrie says Christmas music plays the day after thanksgiving in their retail space and in their phone-on-hold messages. Wedel's is one of many retailers that use music as part of the overall marketing plan.
Phone On Hold Technology and Christmas Music On Hold
If you thought of putting some catchy holiday background music on your hold button, but never got around to it, now's your chance. New technology such as live streaming audio makes it easy to add and automatically remove seasonal messages on hold.
Easy On Hold's streaming delivery system includes a customer log-in that allows users to set end dates for specific announcements. Clients can also contact their production coordinator to have schedules set up on demand.
The new Easy On Hold Creative Content Manager brings tools like scheduling, scripting, and social sharing together in a simple online control panel. Email and text alerts can be set up to notify users of changing content.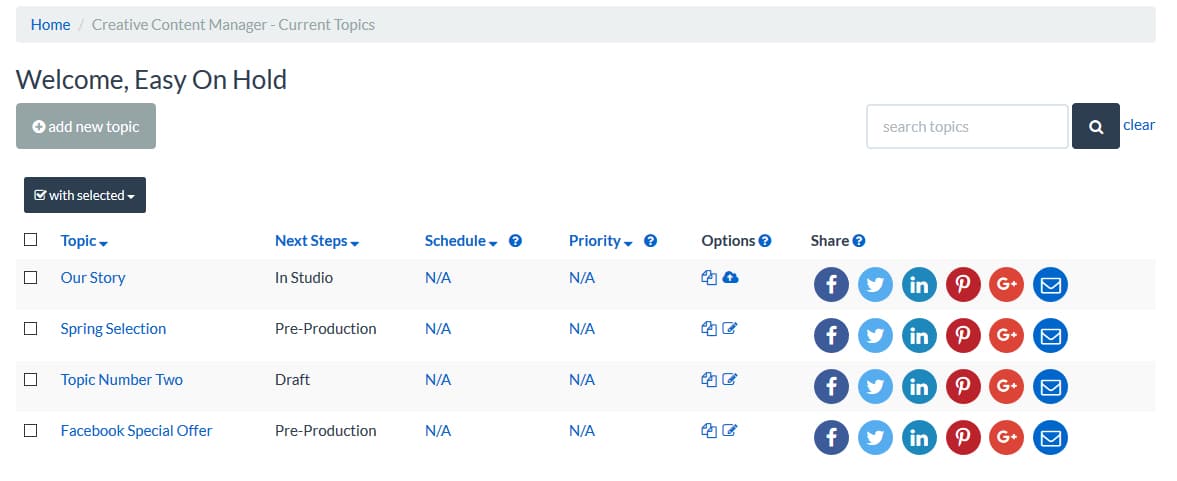 Sound Familiar? That's Intentional.
You've got thousands of tunes locked up in your brain (some you wish had never found a way in). It seems that every time a thought is committed to memory, a neural pathway is created, like a string. It only takes a small tug on that string to bring the memory forward. Like a record in a jukebox, tunes come pouring out and the brain's pleasure circuit lights up like a Christmas tree.
It happens with Christmas music on hold, and Christmas music as in-store, overhead background music in restaurants, retailers, and other businesses. The effect is powerful.
"What seems to happen is that a piece of familiar music serves as a soundtrack for a mental movie that starts playing in our head." said Petr Janata, a cognitive neuroscientist at University of California, Davis. "It calls back memories of a particular person or place, and you might all of a sudden see that person's face in your mind's eye."
Choosing On Hold Announcements With Music
There are some great renditions of Christmas music that can be legally licensed for your use as hold music, or as a background for a message on hold. First, decide if you would like announcements or just music. There are different kinds of announcements or messages:
Seasons Greetings announcements:  "We're wishing you Merry Christmas, Happy Holidays and Happy New Year"
End-of-year marketing messages: "New models arriving soon." "Closeouts before January first." "Come to our holiday open house."
End-of-year hours: "We'll be closed Christmas Day and New Year's Day…"
If you already have a message on hold that you like to use, try keeping the spoken content and updating the music with an appropriate tune.
Choosing Christmas Music On Hold
Music is available in three categories at Easy On Hold (https://easyonhold.com).
Christmas Music: Carols and familiar songs associated with a traditional Christmas celebration. There are many styles, including contemporary and traditional orchestral.
Holiday Music: Songs that do not specifically refer to the religious holiday, such as Jingle Bells, Over The River, Auld Lang Syne, etc.
Jim Brickman Christmas Piano Music: Solo piano works by popular composer/pianist Jim Brickman. Brickman has produced six gold and platinum albums and is offered by Easy On Hold through a special licensing arrangement with Universal Music Group.