How to use custom messages with your Verizon Business Digital Voice Music On Hold.
Verizon offers a variety of mobile and business telephony services, as well as broadband internet services. As with many ISPs, Verizon has a "hosted VoIP" business phone service called "Business Digital Voice". The default music on hold for this business phone service often does not meet with approval. Override audio files can be uploaded, but are not a useful marketing or customer service tool. The solution is to use a custom scripted audio stream. Let's discuss the process for an on-premise solution for your Verizon Business Digital Voice Music On Hold.
Why Use A Streaming Audio Solution?
The live streaming music on hold service from Easy On Hold allows businesses to set schedules via login portal (or by contacting the Easy On Hold Production Department). Special voice announcements on hold will be scheduled to play automatically, to allow specific, time-sensitive marketing messages to be heard by callers. This makes the time callers spend on hold very valuable and timely. Callers can be greeted with, "good morning" and "good afternoon" messages, and avoid playing out-of-date announcements.
The On-Premise MOH Concept
Verizon's business off-premise system is based on the Broadsoft platform, as is the Cox Business Telephony solution. One Broadsoft engineer stated,
Music on hold is more than delivery of .mp3 files – it depends TOTALLY on an outside source to Broadsoft if you want to do anything that involves a richer content experience.This is one of the issues between a premise based solution and a hosted one. In a hosted solution the carrier is responsible for the distribution of content.

It seems like Broadsoft does only allow you to upload one .wav file at a time, and it plays the beginning of that file every time. I think this is bad on Broadsoft's part. It assumes the end user knows how to convert a .mp3 or other audio format to a .wav file (try explaining that to a common end user). Plus once they figure out how to upload the file, they can only upload one file. Uploading another file erases the old file. You could combine multiple songs into one long sound file, but then Broadsoft only plays the beginning of the sound file. So unless the caller is on hold for a really long time that doesn't help. Broadsoft's solution from what I can see is to use an external source.
Alas, Verizon Business Digital Voice is an off-site (off-premise or "off-prem") hosted system. You can't get to it. If Verizon Business Digital Voice would allow use of a streaming service (live audio via http) it would be a simple matter of inserting a URL direct in the Verizon system to bring in the custom stream for callers to hear while holding. At this time Verizon does not allow this, so we need to make the music on hold audio stream a local event. This can be done with an ATA – Analog Telephone Adapter.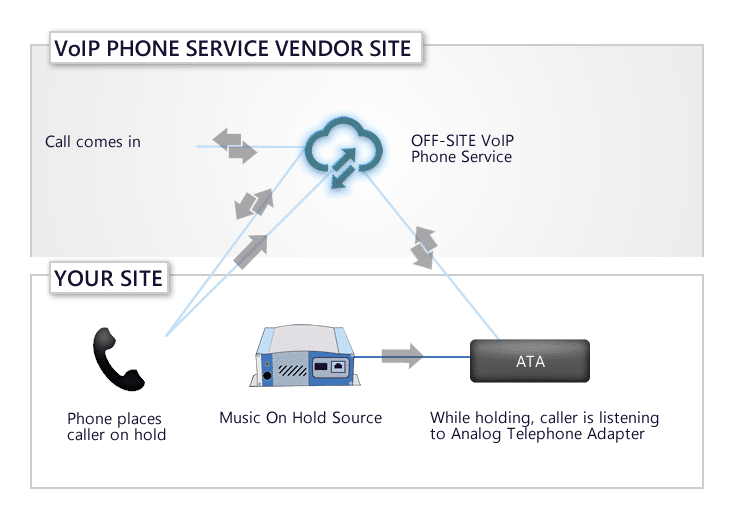 Verizon Business Digital Voice Music On Hold via ATA (Analog Telephone Adapter)
These adapters are used to make analog devices, such as a fax machine, part of a digital phone system. They can be used to connect a conventional telephone to a remote VoIP server, for example. They can also be used to connect analog audio from a music on hold player to a remote VoIP server–the concept behind using an on-premise source for an off-site phone system.
Music-on-Hold Module for LM416VZ Only
Verizon advertises a version of the ATA in the form of a Music On Hold adapter, intended for use with Landmark 416 telephones.

The Landmark 3416 module can be utilized to provide any one of three features for the Landmark 416 telephones; music on hold, external paging or for door monitor. Music-on-hold can be provided by connecting to a music source to provide background music or announcements to callers on hold.