Do I Have To Use Music On Hold Files?
With so many telephony platforms and providers in the marketplace, you need to ask questions about whether your system needs music on hold files — or perhaps some other method of music/message on hold (MOH) deployment?
Before Music On Hold Files
20 years ago, when Easy On Hold was just beginning to provide music and messages on hold, a majority of business telephone systems were on site (on-premise), meaning you had a "phone room" somewhere with equipment and wires. This point of connectivity provided a place to plug in a message on hold device. (They used to be called repeaters, because they were designed to play the messages over and over again.) This device originated its audio from a tape cassette; later an audio CD. The audio is transferred onto an internal sound chip and played reliably (most of the time).
The Cisco G.729 Music On Hold Files
For larger companies, we often found Cisco phone systems in use. These were also on-premise but required an audio file for the music on hold.
Cisco kept a small, highly compressed G.729 .wav file within the phone system itself, which would be a resource that the hold button could connect to for playback as needed when callers were on hold. The file played the famous (and annoying) Cisco hold music song from the beginning every time the call was placed on hold. If a tech could figure out how to change the audio file, there would be little relief due to the horrible compression scheme that degraded the audio files.
Read about our exciting solution for Cisco MOH!
Today's VoIP: Platforms Vary
Today, many phone systems are off-premise (cloud-based). We refer to these as off-site VoIP (voice over internet protocol) or cloud platform systems. As the world of telephony moved to the cloud, every kind of tech company was jumping in: internet service providers, network installers, cable tv providers; all kinds of I.T. companies. Some mounted their cloud services on established platforms, such as Broadsoft (Cox, Verizon, Megapath), Asterisk (Switchvox, Bicom), Metaswitch (TDS Telecom, Windstream, Time-Warner Cable) and others. Some opted to create their own platform: Fonality, Ring Central, Grandstream, Skype For Business (formerly Lync), 8 by 8, etc.
Before we go too far, it is important to remember that not every phone system requires audio files as the music on hold source. Files are sometimes an inadequate alternative to a better solution. For now, we will discuss platforms that actually force you to use audio files and give you some "need to know" tips.
What You Should Know About Music On Hold Files
Ask your service provider some important questions:
1) Is there any way other than music on hold files? If you can use a "local" device, sometimes called an "external device", you will have greater control over your content. Using a streaming message on hold solution will allow you to set automated start and stop dates for content, which allows you to be time-sensitive and very specific. This specificity can drive sales and customer inquiries, making your phone on hold a real sales asset.
2) Does the audio play from the beginning of the file every time the hold button is pressed? Think of it: you have 8 great topics to tell callers about. In all, your audio file is 3 to 4 minutes in length. Your callers might only be on hold for a minute, meaning most of your content is never heard. For repeat callers the repetition of the first bit of audio is annoying. In a recent call to Fonality, we were told that customers can load the audio file or talk to support. The file will play from the beginning every time a caller is on hold or transferred. There is no interest in improving the caller experience and Fonality is not interested in hearing about any other options.
3) What is the audio format? When Cisco started using G.729 .wav audio files, there was no way for studios to convert recordings properly, because the format was proprietary to Cisco. Some systems use(d) .au, .vox or aLaw files. Often CCIT uLaw is the format, or perhaps .mp3. Most phone users are unfamiliar with these formats, further complicating life unnecessarily.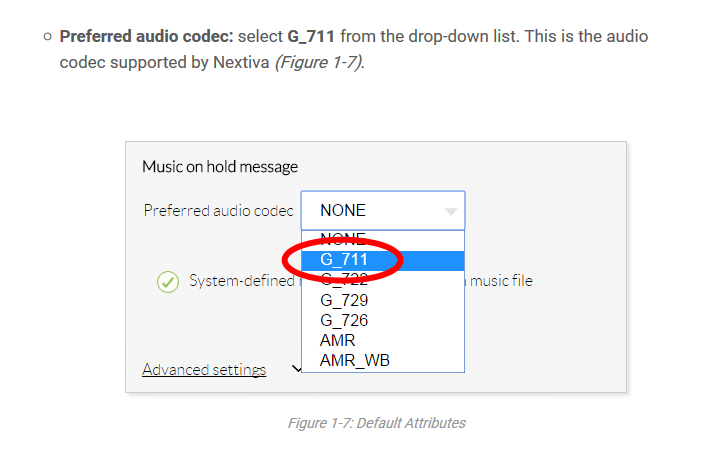 4) Who will upload the music on hold files? We often hear from music and message on hold clients that they need audio files, but don't really know what to do with them. Do you know how to log in to your phone platform and safely navigate to the MOH settings? Is there a proper naming protocol for the file? Will you need to forward the file to a technician at the phone service provider? How long will it take to get the audio files changed?
5) Is there a limit to the length of the audio file? Some service providers limit the file size or length of music on hold files. Trying to upload a file that is too large or in the wrong format will be rejected as the cloud service protects itself from harmful uploads.
6) Can multiple files be arranged in a playlist? Sometimes a provider will allow playlists to be curated (true with Fonality, 3CX, and some others). The process may or may not be something you wish to undertake, however, this feature can be useful. Try using multiple short audio files that can be built into playlists. Over time you can delete, add and move around these playlists to create the variety that is missing in most VoIP MOH environments.
7) Can the music on hold files be randomized? One way to make the most of caller on-hold time is to keep the content fresh and relevant. This can be made easier with the ability to randomize audio files. This way, you can run a limited number of short, individual announcements that will be heard by a majority of callers. Randomization is rarely available, but why not ask just in case?
8) When will callers hear the music? Transfer, Park, Hold. There is a difference. Sometimes calls will hear the hold music only if they are placed on hold by the pressing of the hold button. Sometimes callers hear music when transferred. And then there's our old friend Park – which is used when a call is placed on hold and is allowed to be picked up at any extension, rather than just going to one specific phone.
9) Do I have the rights to use the music on hold files I am uploading? Most phone service providers issue warnings not to use copyrighted material on hold, as we have written about in the past. If your content is not properly licensed, you – not the phone service – will be responsible for any resulting consequences.
The Evolution Away From Music On Hold Files
In recent years we have seen many platforms move away from the practice of uploading audio files for music and messages on hold. Many on-site appliances still offer an auxiliary input for a music on hold device. The streaming internet device from Easy On Hold is a simple to deploy a solution that provides a superior caller experience. Your efforts are reduced while the audio stream changes content automatically.
Your music on hold streaming URL (internet-based stream) can be entered directly into the new Avaya 7.0+ with Aura or Bicom Systems excellent cloud-based service, and with your iPitomy and Fortinet devices. We recently had a customer using Crosswind VoIP service using a streaming URL. It means no more uploading, manipulating, or babysitting your MOH (messages on hold).
Conclusion
Uploading and managing audio files is a poor solution for music on hold. Once a file goes up it is forgotten. Yet, unless your on-hold topics change, you're only punishing your callers and tarnishing your corporate brand.
Many of the folks selling cloud-based VoIP services don't have a clue about serving callers that are placed on hold, and we await the day that the product development teams at these providers bring their MOH services up to today's audio standards.