We started Easy On Hold 20 years ago simply because most business had no idea what to do with callers who had to wait "on hold". Nobody likes being on hold, but we're here to do something about it. In fact, thousands of businesses are using Easy On Hold to make "on hold time" a worthwhile experience for callers, and a way for you to build business.
Stop Delivering The Expected
When you call a business and get placed on hold, what do you expect to hear? A loop of music with "thank you for calling" announcements is so typical, that businesses using this approach are doing nothing more than confirming the callers' worst fears: another annoying on hold experience has commenced.
Music and Messages On Hold Tested
The American Psychological Association found that seventy percent of callers who hear music only while holding will hang up before their call is answered. A quick check on Twitter confirms this. Take a look at these comments: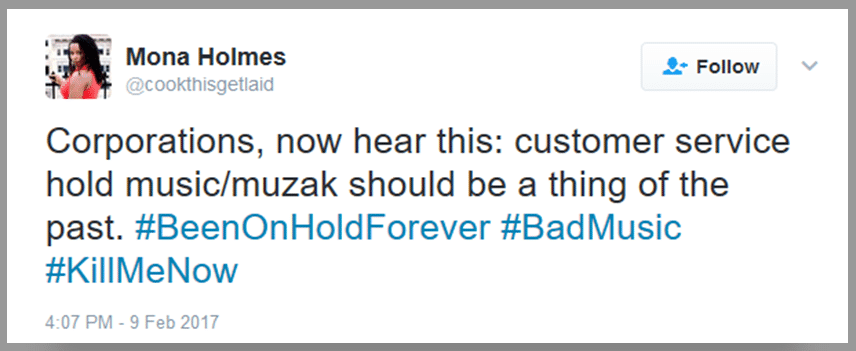 Music does pose some problems, because it can sound scratchy and distorted over the phone, especially cell phones. And what constitutes "good" music?
Here's a comment that any music, when used on hold, can become annoying.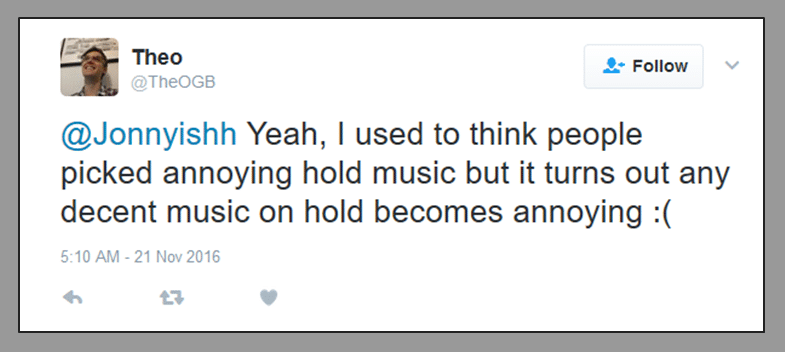 Next the A.P.A. study added voice to the hold queue. These added statements made very little difference. Still, sixty seven percent of callers hung up before their call was answered.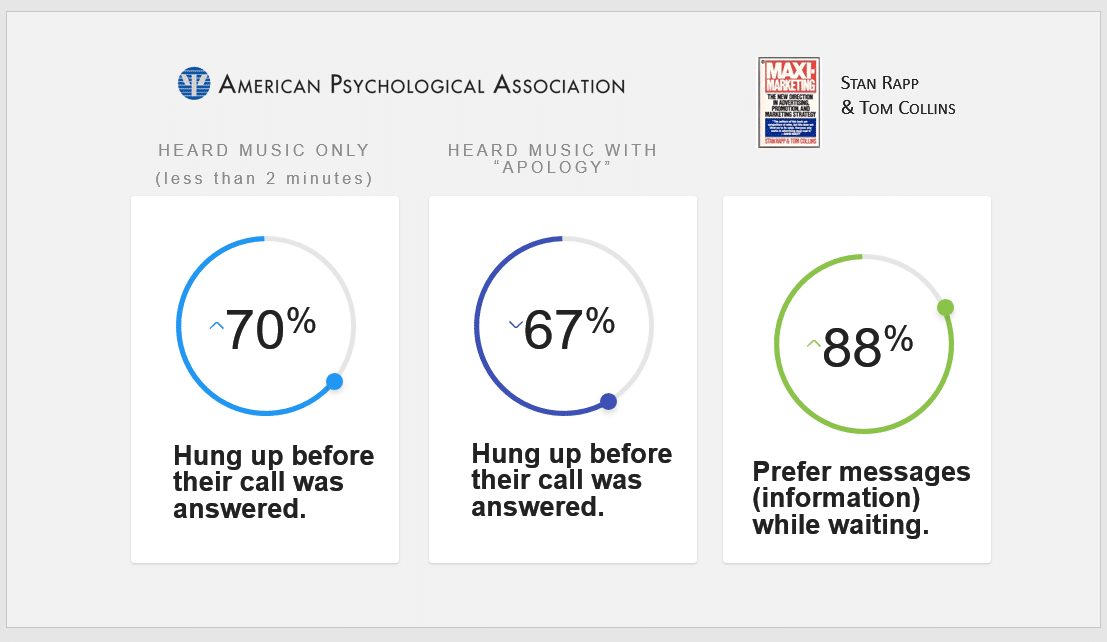 It turns out that what callers want most is "information". It's why they called in the first place, after all. The study conducted for Maxi Marketing revealed that 88 percent of callers prefer information while on hold.
Case Study: Changing From Hold Music to Hold Marketing
To get more insightful, Easy on Hold customer Richard Germann had a problem with high levels of call abandonment at his catalog company, Wine Country Gift Baskets. Trying different types of messages on hold, Richard says, "varied and non-conforming" messages work best. Avoid generic announcements and use a skilled script writer.
It has certainly been a success story for us. We have had very few abandoned calls. If I had to contrast that wilth the past we would have had many abandoned calls.

I had done some research into best practices, etc. It seems a varied and un-conforming hold message will make people hold vs. "Your call will be answered in the order received." Your script writers have done a great job of adding spice and variety and I think this is the key ingredient!

RICHARD GERMANN, Customer Service Director
Wine Country Gift Baskets
More than just keeping callers from hanging up, the right content on hold is just plain good for business.
Good Customer Service Requires Professional On Hold Information
Many companies pride themselves on having excellent "customer service", but do very little to help callers waiting on hold. Did you notice that dissatisfied customers equate being on hold with "poor customer service"?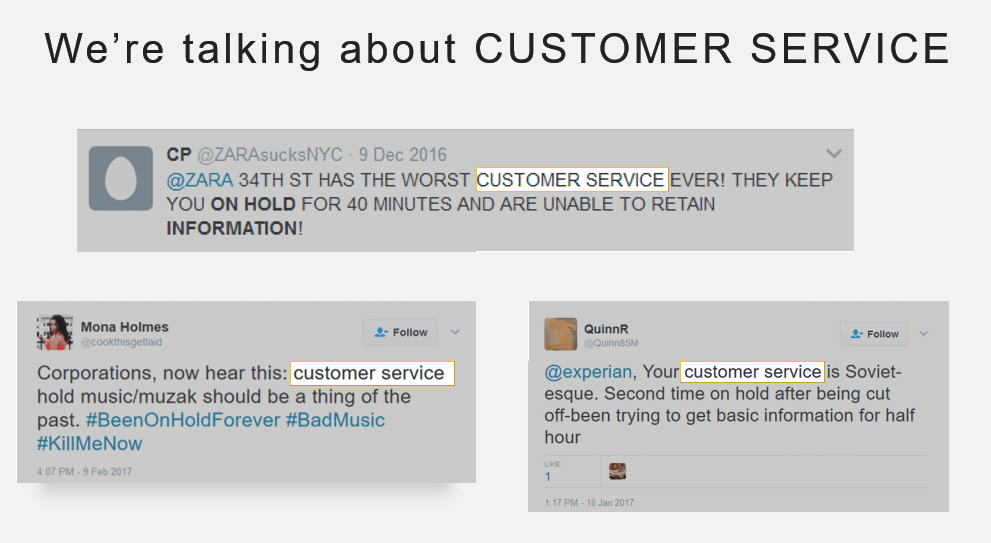 Easy On Hold has re-invented on hold messaging.
The secret is having control over an unlimited number of spoken elements, including, "good morning", "good afternoon" and "hope you're having a good Tuesday…" It sounds more natural, more inviting and lets callers know that your phone on hold audio is a live stream. This gets callers attention because it is so different from the usual, "thank you for holding" that they were expecting!
Callers are expecting a "loop". That's a string of announcements that are heard in the same order, over and over. The Easy On Hold stream randomizes short, call-to-action paragraphs. Each topic is given detailed instructions: when to play and how often.
The stream assembles content on the fly, according to priorities you determine well in advance.
Creative Content Manager
One way to demonstrate how it all works so seamlessly, is to log in to Creative Content Manager. This is the online tool that handles every aspect of your phone on hold marketing.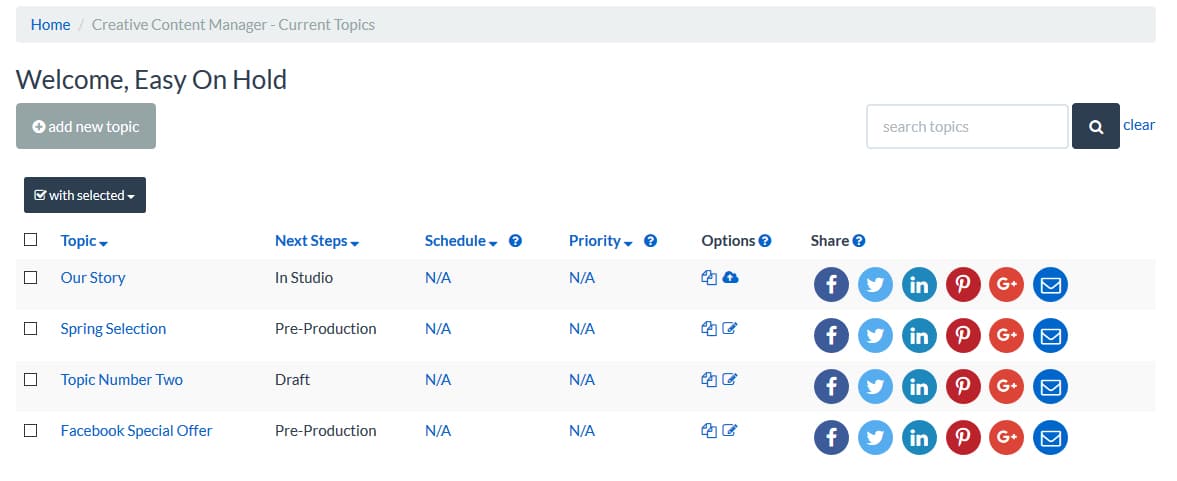 With your secure login, you can:
See all topics, and the locations where each will be played.
Check on the status of a script or audio production.
Set schedules for automatically start and stopping the message.
And because all topics are not equally important, you can give a higher priority rating to those topics that are time sensitive and need to be played more often.
Other options: listen, archive, download and delete.
Post your content on social media or share via email. Achieve more marketing power with less effort.
Need to find a topic or phrase? Just search.
Select the greetings that are specific to the day of the week and time of day, such as "good morning".
To create a new script enter new information ir re-use an existing script. Provide our creative team the basics and we can take it from there, or choose an industry template as an idea-starter. For John Deere dealers, AD ZONE content is updated here monthly.
Each message or topic can be assigned to one, several, or all locations… it's as easy as checking a box.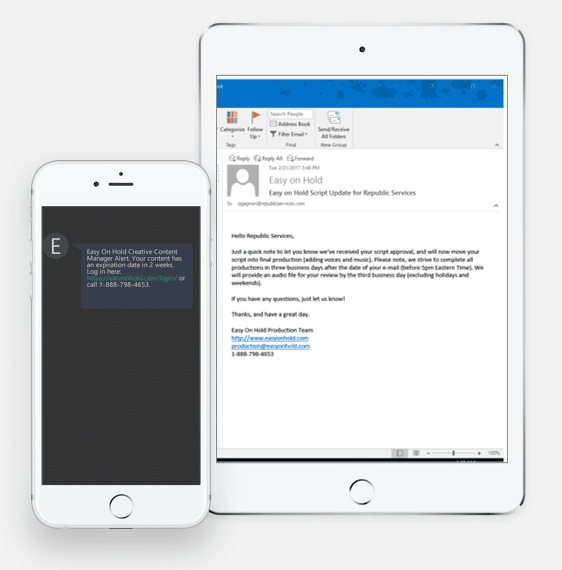 You'll get email and text alerts notifying you that your approval is needed… or when older content is about to expire.
Streaming Audio Device Provided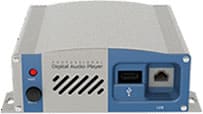 If your phone system requires an onsite audio device, you can use the ProStream, made especially for Easy On Hold. Briefly, this device is an internet listening device—taking up less than .025 gigs of bandwidth per hour. There are just a few firewall settings to check before installing. If the internet goes down, internal audio files play as a fail-over system. The ProStream checks in with our servers every fifteen minutes to let us know everything's OK.
Our full time tech support team is great at providing friendly help anytime.
Tips For Messages On Hold Scripts
Be friendly—try a relaxed, natural approach. And use those "good morning" and "good afternoon" phrases. Provide more than information, give a call to action. Callers want to know what to do to take action on what you've just shared with them. And give a deadline, or a date by which action must be taken. Don't worry, your messages automatically stop before the offer ends, so you'll never have to worry about playing an out of date message.
Scripts should focus on "right now". Use SHORT, one-idea-only paragraphs… usually containing an offer that's time-sensitive.
Our writers and producers always provide 3-day turnaround on custom productions.
Manage Multiple Locations
John Deere dealer Sun South uses our streams at their 21 locations, and they keep it fresh. Neal Stanford tells us they find the quality refreshing. The results speak for themselves.
I just want you guys to know how much I appreciate working with you. Your turn around time and quality is refreshing. I wanted to give you guys a big complement. Thanks for being a great partner with SunSouth.
— NEIL STANFORD
Is The Public's Perception Of Being Placed On Hold Changing?
Music and Messages on hold was first used over 50 years ago, and still, being placed on hold is so disliked, it's the butt of jokes and the topic of many a social media rant.
At Easy On Hold, we have the solution:
Your own "live" radio station with important information that engages callers so not only will they stay on the line, they'll do more business with you.
You'll have a simple and powerful online tool – Creative Content Manager – to create and keep track of all of your scripts and audio.
With advanced scheduling, you'll save time by preparing months in advance, and know that callers will never hear expired or out of date information.
Multiple streams of audio handle unique messages at all of your locations—no files to handle, it's completely automated.