Editor's note: This article is about custom messages on hold for a unique Easy On Hold customer. It was published in 2014. Sadly, our team member Kim Sherry passed away in 2018. This story is about how Kim provided great support to an important customer. We are proud to continue to publish this on our blog.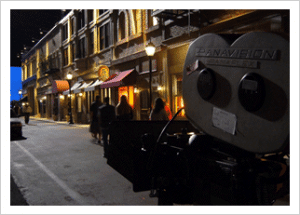 Marvel Studios, producers of blockbusters including Spider-Man, X-Men, and The Avengers must choose a production facility that delivers the best. If you're producing the sequel to Avatar, you need the right team, location, and resources. That place is called MBS Media Campus, a collection of the largest and most well-equipped sound stages in the country, plus post-production, offices and dozens of amenities Hollywood producers need to make world-class movies. Now, MBS is turning to Easy On Hold for custom image-boosting messages on hold.
Custom essages on hold in Hollywood? Why not? Taking care of inbound calls is an important part of any business. That'sw how it is for the 6-thousand facilities in the USA for making movies and video: branding and customer service is important.
How EOH helps MBX
Easy On Hold has been selected to produce specialized marketing messages and music backgrounds for use on the MBS telephone system. Leading the project for Easy On Hold is former film producer Kim Sherry, now a full-time Music On Hold Expert with Easy On Hold.
"MBS is the best of the best," Kim explains, "and they're looking for the next generation in technology and a forward-thinking approach to phone-on-hold communications."
Easy On Hold's breakthrough streaming technology caught the attention of the MBS administration, which prides itself on delivering "the future of film, media, and entertainment.
About Kim Sherry
Easy On Hold's Kim Sherry was a producer for Dunn Entertainment for 9 years. During that time she worked with John Esposito, head writer for The Walking Dead. John adapted the Stephen King short story Graveyard Shift for Paramount Pictures, on which Kim was Assistant To The Producer. Among Kim's industry achievements is the acquisition of the 1996 Quentin Tarantino film script for From Dusk Till Dawn (starring George Clooney).
MBS Media Campus (formerly Manhattan Beach Studios) was established by the nephew of Walt Disney, the late Roy E. Disney, son of Roy O. Disney who co-founded the Walt Disney Company. The facility spans 22 acres and is home to dozens of television show productions, including ABC's Revenge, and NBC-TV's The Voice.
"Getting the corporate messaging right for MBS is our goal," stated Easy On Hold president Julie Cook. "Last fall Los Angeles Mayor Eric Garcetti announced a public campaign to increase awareness of the importance of filmmaking to the local economy. This and other key issues can be incorporated into script development moving forward."