A message from the president and CEO of Easy On Hold.
Easy On Hold® is a Michigan company providing custom audio services for businesses worldwide. Over a 21-year history, our company, Easy On Hold®, has been a leader in the telephony music on hold messages space. Our streaming music service, Brandi Music is gaining popularity as a solution for licensed music in retail and business environments.
COMPANY SUMMARY
Easy On Hold® (EOH) is a leading provider of music and messages for telephone on hold systems and related business voice and music services. The company was founded in June, 1997.
Innovation
Since its inception, Easy On Hold® has focused on innovation in an industry that had grown stale. We have replaced repetitive, unimaginative phone-on-hold messages with dynamically generated content. The result is a friendly, professional, always-up-to-date sound that will impress callers and reduce hang-ups.
Our proven technology platforms deliver high-quality licensed content, including music for retail, restaurant and office space as well as the unique "logo radio" programming that adds simple branding to popular music streams.
The term music on hold messages refers to marketing announcements played to callers while they wait on "hold" on the phone. They are a standard, necessary feature of business communications. Most providers in the messages on hold space do not provide the premium streaming technology and user tools offered by Easy On Hold®, putting our company in an elite position in the marketplace.
Markets
Call centers, medical facilities, credit unions, and agricultural equipment dealers are among the markets that depend on telephony as the link to valued clients and patients. Other markets include manufacturing, automotive, apartment management, fitness, salon/spa, education (colleges and universities), assisted living, real estate, veterinary, building and construction, trucking and logistics, and technology businesses.
Brandi Music
The ownership at TBA, Inc., the parent company of Easy On Hold®, has launched a background music service called Brandi Music ("your brand, your music") that operates on a robust streaming music platform. Brandi Music is easy to use, affordable, dependable, and sounds great in any restaurant, grocery store, office lobby, spa, etc.
Management
The EOH Management Team is comprised of seasoned marketing, communications, and sales leaders. Founder Tim Brown is a veteran of recording and messaging. President Julie Cook has 29 years of marketing and sales experience. Operations Manager Jamie Ferguson applies fulfillment and logistics expertise to maintain our 3-day turnaround promise.
Opportunities
The increasing acceptance of pay-to-play streaming music services makes the ongoing development and innovation in the streaming music space worthwhile.
Aggressive Growth
Ours is an aggressively growing company, having doubled gross revenues over a two-year period. Our focus is on driving customer value through research and development, user conveniences, and ongoing growth in technology support.
---
DOWNLOAD THIS ARTICLEhttps://easyonhold.com/knowledgebase/About_Easy_On_Hold.pdf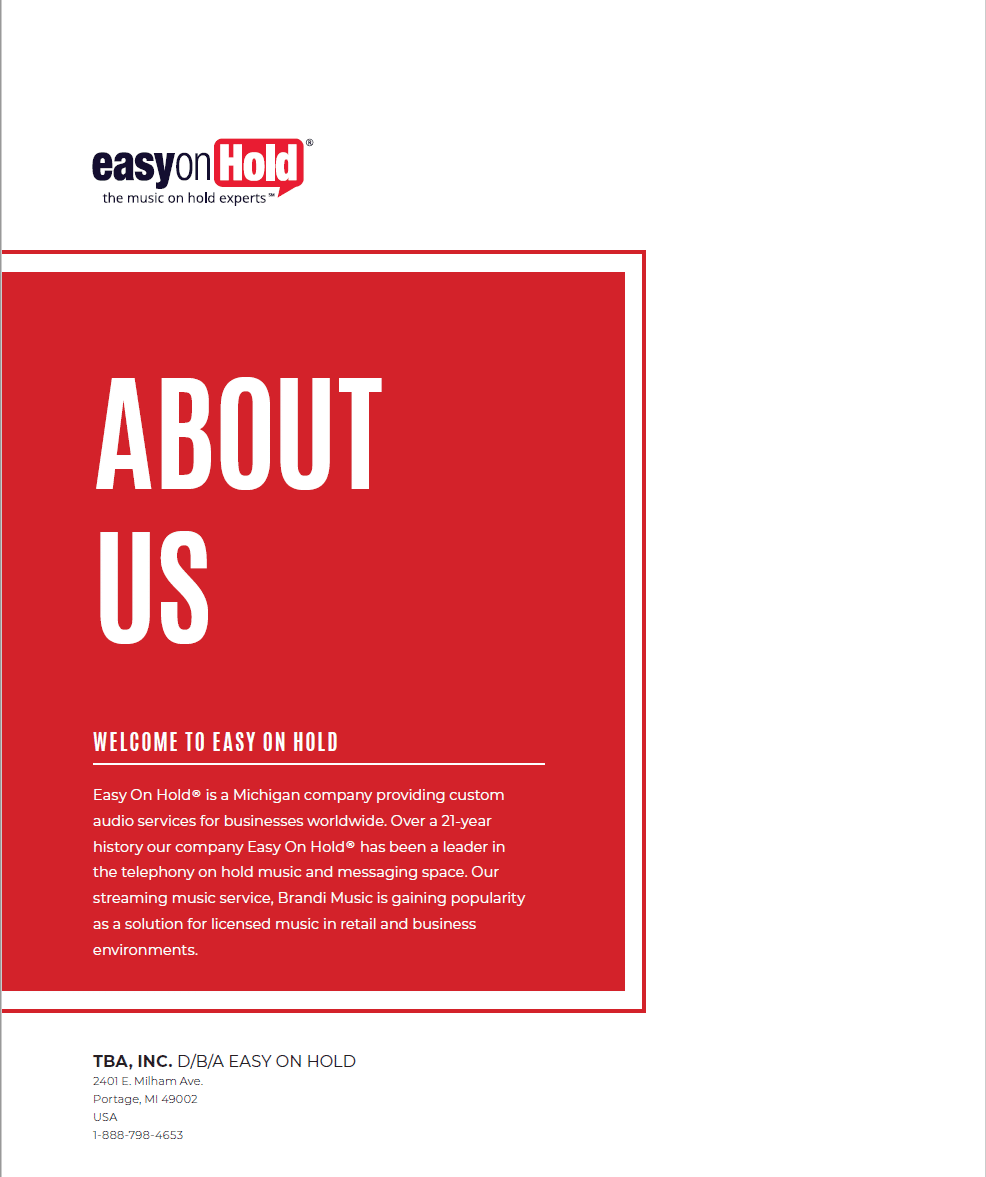 ---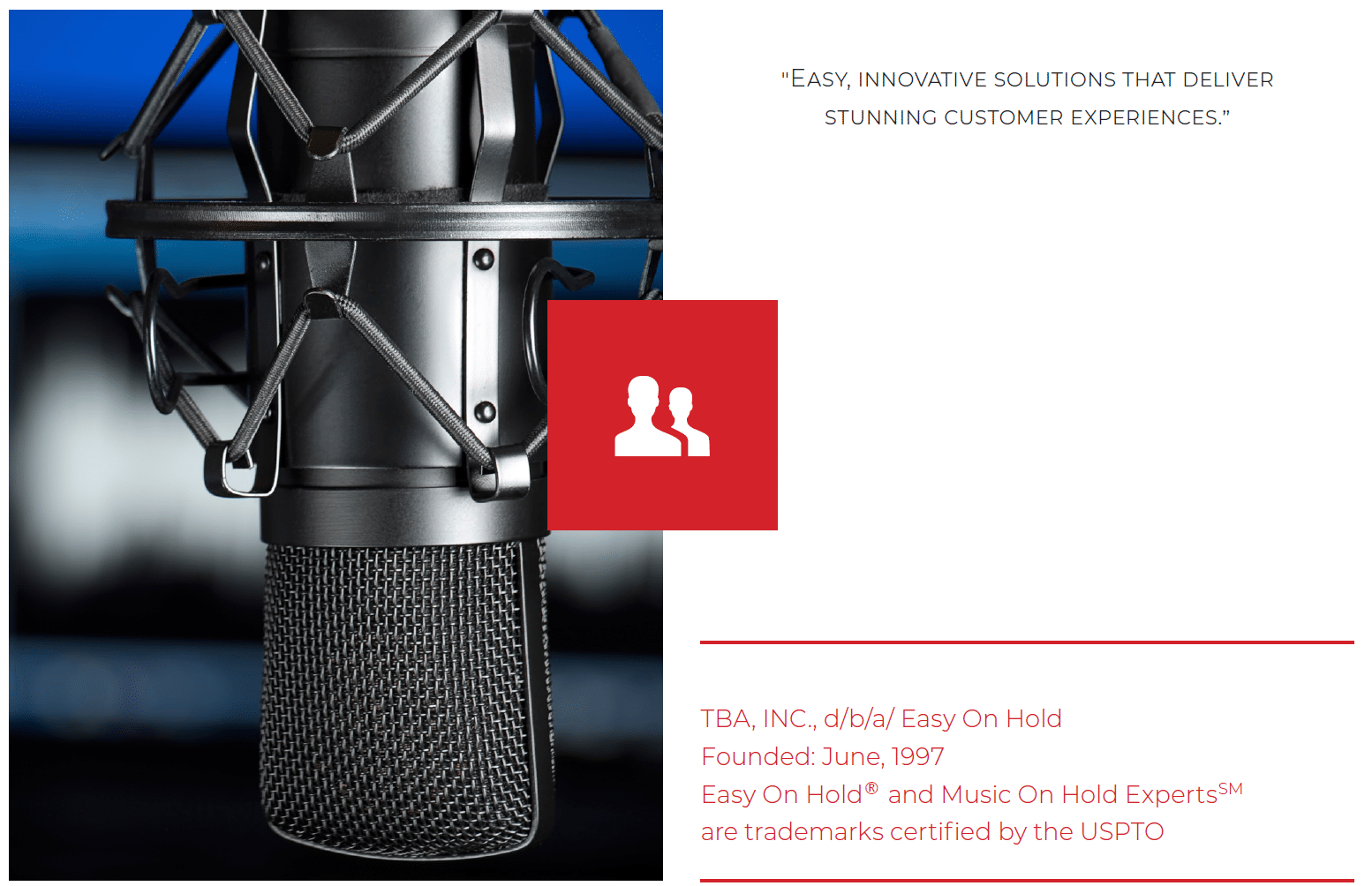 VISION AND VALUES
Our vision is to be a top-tier provider of: Music On Hold Messaging/Marketing • Streaming Music Technology • Business Music Services • Business Voice Services

TBA, INC., d/b/a/ Easy On Hold
Founded: June, 1997
Easy On Hold®, Music On Hold Experts and Enterprise Music On Hold are trademarks certified by the USPTO
Our company values are High Tech, High Touch, Excellence.

High Tech means having technical competence; earning the label "music on hold experts". Streaming technologies and user interface development are at the forefront of our High Tech efforts.


High Touch represents our customer support philosophy and model. High Touch means providing frequent, quality communications with the customer; showing respect for others. We emphasize phone calls over emails; asking questions; seeking customer needs. Our High Touch Account Management Team makes thousands of customer contacts each year, resulting in consistently high customer retention rates.

Excellence means being committed to quality work and self-improvement.
---
UNIQUE CUSTOMER VALUE
What makes Easy On Hold stand out? Our strong customer service features.
Instant Updates
When clients need to make a change, there is no waiting. All audio updates are heard on the stream immediately.
Easy Control of Multiple Locations
Streaming on hold messaging is especially useful for businesses that manage multiple locations. Our customers include call centers and contact centers, John Deere dealer groups, credit unions, financial institutions, educational campuses, and many other
industries in need of centralized control of the phone on hold audio.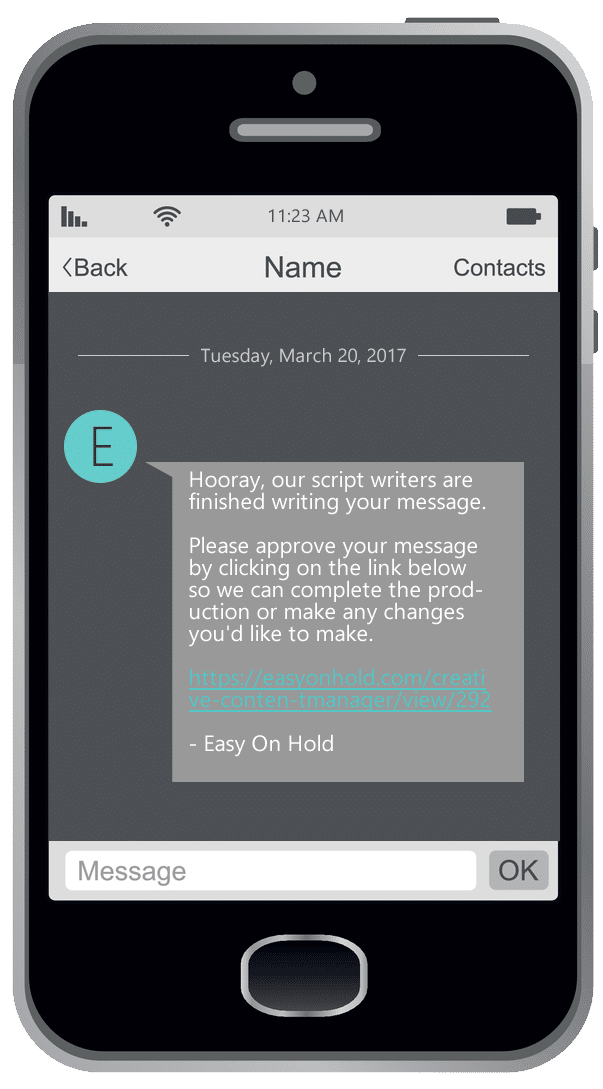 Priority Messages
Are all of the topics in your on music hold message rotation equally important? Of course not. An upcoming event, a limited-time offer or a new feature announcement deserves to be heard more often. Our exclusive priority scheduling feature assigns each topic a value that makes it play more or less often than others. Brilliant!
Automated Scheduling
With streaming on hold programming, each individual topic can be set to start and stop as needed. Set the month, week, day or even the time of day for each message. "Good morning" and "good afternoon" greetings are very friendly and impressive to callers.
Creative Content Manager
Our unique customer portal creates online convenience for users, which prompts greater utilization of our services and higher customer retention rates.
---

See the video at https://easyonhold.com/music-on-hold hold/streaming/ to learn how Easy On Hold has reinvented messages on hold.
---
LEADERSHIP
In 1996, Easy On Hold founder Tim Brown called a restaurant to make a reservation. The hostess was busy and placed the call on hold. While waiting, Tim heard a radio station playing an advertisement for a different restaurant. It sounded good, so he hung up and went there instead. That experience inspired the Easy On Hold concept.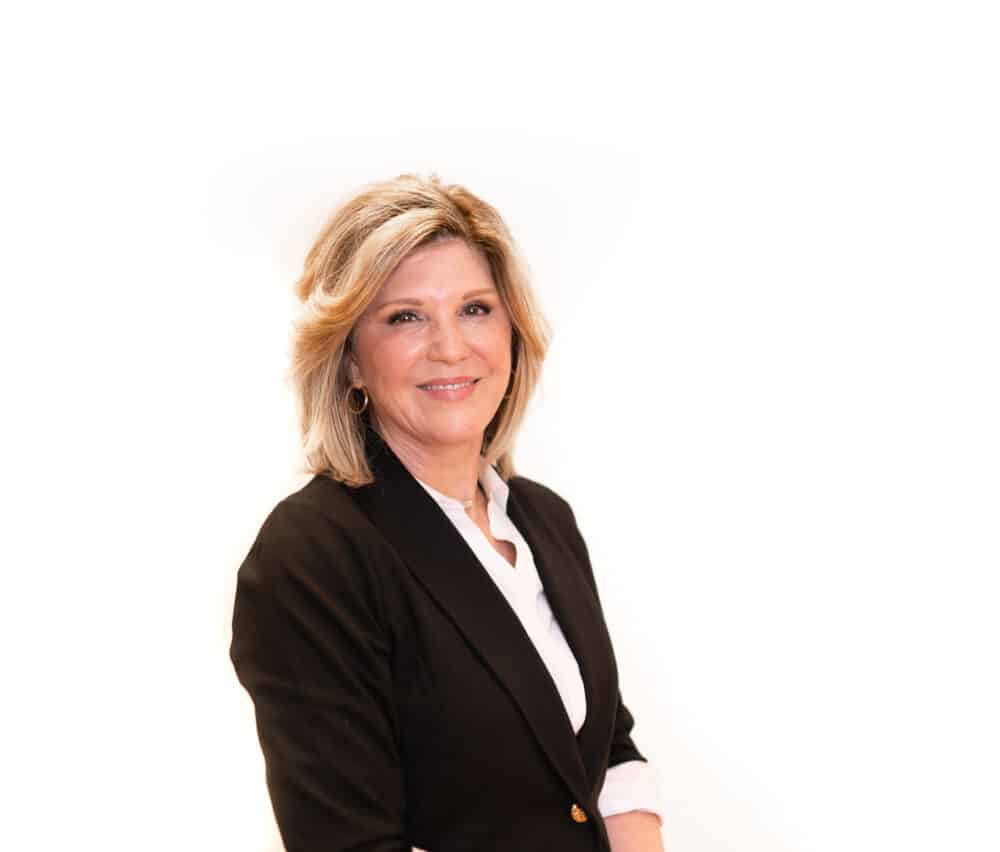 "When you choose to do business on the internet, you don't know what you're getting. But at Easy On Hold, even though we may never meet you and you may never meet us, we promise to build an authentic relationship with you that you can trust.
"You'll know that every phone call is going to be returned; that what you bought is what you get; and that we care about you. We care about working with you to make sure that your message is exactly what you hoped it would be, and that it inspires your callers to do business with you in a way you never dreamed. All because of that message on hold.

"It is my promise to you as the president of Easy On Hold, that if you choose to do business with us, you can trust that we're going to deliver on what we promise. This is how I'm building my team from top to bottom. It's our company culture here, and it's what I promise to you."
---
MANAGEMENT TEAM
TIM BROWN – Founder
Radio host for 19+ years, founded Easy On Hold in 1997. Technical lead, marketing lead, R & D, voice talent. Serves as an elected official (Trustee) in Texas Township, MI.
JULIE COOK – President/CEO
Radio news background. Marketing/PR director of Gilmore International Keyboard Festival for its first 10 years, managing a marketing budget of over $1 million. Growth strategies, personnel, operations, voice talent. Serves as president of Applegate Homeowners' Association, member of Kalamazoo Youth For Christ Board of Directors.
JAMIE FERGUSON – Operations Manager
20+ years of experience in fulfillment. Directs the Production Department.
PRODUCTION TEAM
PRODUCTION COORDINATOR – Script creation/delivery/track changes/customer fulfillment success. – "I am your connection to success. I am on your team."
STUDIO PRODUCER – Voice talent recording/editing/music/audio files/stream programming. – "My work stacks up to anything produced anywhere."
TECHNICAL SUPPORT – Prepares customer deployment/customer support. – "l am always ready. Everything is urgent. I never give up. "
---
MAIN SERVICES
MUSIC ON HOLD MESSAGES: Streaming audio on hold or custom audio files.
CREATIVE CONTENT MANAGER: Customer portal with built-in social sharing.
VOICE – IVR – LANGUAGES: Professional voice recordings for a variety of uses. Translations; international voice over services representing over 30 languages.
FUTURE CONCEPTS FOR CONTENT MARKETING: We're always making the on hold experience more valuable.
BRANDI MUSIC: 62+ channels of music, optional announcements.
STREAMING DEVICE: Advanced hardware built for business, with remote upgrade capability.
---

FEATURES – ADVANTAGES – BENEFITS
A feature is our unique and innovative offering. The advantage is "how we're different/better than others." The Benefit is "how it makes your life easier."
Feature: CREATIVE CONTENT MANAGER
Advantage: Online tool for updating and maintaining effective messaging.
Benefit: Confidently manage all content in one place. Convenient.


---

Feature: LIVE STREAMING AUDIO PLATFORM
Advantage: Instant changes, "self-driving", schedule in advance. Manage multiple locations with ease.
Benefit: You'll never play an out of date message. To save time, we can write and record now, and schedule to automatically player later.


---

Feature: SOCIAL MARKETING BUILT IN
Advantage: CCM includes social marketing feature to get more out of your message on hold scripts.
Benefit: A time-saving boost to your social platforms.


---

Feature: EMAIL & TEXT ALERTS
Advantage: When content is getting stale, or a new script or audio is ready to approve, you will be notified in the way you prefer.
Benefit: You can relax, knowing you will not need to "check in" on your creative content. You will get timely notifications.


---

Feature: A+ RATED: BBB
Advantage: Easy On Hold has always held an A+ rating from the Better Business Bureau, whereas others have not.
Benefit: Integrity provides confidence in choosing Easy On Hold as your provider.


---

Feature: ENDORSED BY MAJOR CORPORATIONS
Advantage: Highest standards of quality, as proven by our clientele, including T-Mobile, Progressive Insurance, Expedia, Shaw Flooring, Norwegian Cruise Line.
Benefit: Enjoy the convenience of working with a professional firm with 21-years of experience. Business of all sizes are served.


---

CLIENT SPOTLIGHT
70% of business calls are placed on hold. Consider recent shifts in customer attitudes. There's a demand for fast service and high quality. Companies that miss the mark are exposed in social media rants. Marketers must pay extra attention to what callers hear while they wait.
NYU Langone Health Center is among notable Easy On Hold clients in the health care industry.

Easy On Hold chosen by 575 John Deere dealer locations.
"When customers call our dealership, they're calling to do business with us. Any means of retaining these customers during on-hold time is money well spent. Furthermore, promoting your business while the customer is on hold is a great advertising method for selling your products and services to the customer." ̶ Chris Cole, Smith Implement, John Deere Dealer

Easy On Hold is a key piece of a Credit Union marketing plan."Currently our members are telling us that they learned of our products and promotions in roughly equal portions as follows: 1/3 from our newsletter, 1/3 from our teller line and 1/3 from Easy On Hold. Members get the message in print, in person and over the phone. And it works!" ̶ Brad Warner , CEO , Fairless Credit Union

Easy On Hold services major call centers.

---
7 SIGNIFICANT MARKETING TRENDS IN 2018
"Content marketing is a strategic marketing approach focused on creating and distributing valuable, relevant, and consistent content to attract and retain a clearly defined audience." – Content Marketing Institute
URL-based streams for MOH (music on hold messages) may be used with Asterisk®, Free PBX®, FreeSwitch®, Genesys®, OnSIP® and other "off-premise" or centralized communications platforms. We anticipate growth in these platforms. Now, as a Broadsoft Partner and PIKA Technologies Partner, Easy On Hold is integrating sip-based streams for music on hold messages. In addition, our technology team has integrated with Megapath to create the first platform-wide hosted music on hold message system.
1. INBOUND MARKETING TECHNIQUES
The message on hold is an inbound marketing strategy (as opposed to outbound or interruption marketing). Hubspot® (an Easy On Hold® client) reports that 92.7% of companies using inbound marketing increase their lead generation.
2. CONTENT MARKETING: NON-TRADITIONAL MARKETING
Using a non-traditional platform to provide relevant information is the preferred approach for marketers today and in the future. In fact, content marketing was rated as the most important technique for driving incremental sales in 2017, according to Smart Insights.
3. SOCIAL MEDIA INTEGRATION
Almost every business has an active social media presence, in hopes of "clicks" and "follows". Our messages on hold is pushing callers to social sites. Easy On Hold's® online tool Creative Content Manager includes social sharing buttons.
4. . STREAMING AUDIO ON HOSTED (OFF-PREMISE) TELEPHONY PLATFORMS
Phone: +1 269-342-4653 / 888-798-4653
Address: 2401 E. Milham Ave., Portage MI 49002
Email: info@easyonhold.com / support@easyonhold.com
LinkedIn:
5. STREAMING AUDIO DIRECTLY INTO ON-PREMISE PLATFORMS
Recently, some on-premise platforms have allowed direct programming of a streaming URL for MOH: iPitomy®, Fortinet®, Avaya® 7.0+. As a trend, we see an increase in telephony platforms using streaming music and messaging content.
6. STREAMING DEVICE FOR ON-PREMISE PLATFORMS
Most on-premise telephony systems will accept an analog audio input, meaning a streaming audio device can be implemented. All overhead/background systems require an on-site device. A stream allows dynamic music on hold messages content creation that never goes out-of-date.
7. MARKET GROWTH
With over 30 million Americans now enjoying streaming music services, the idea of a streaming music service for business is a logical approach. Businesses are beginning to leverage streaming technology in meaningful ways.
Contact Us For More Information About Music On Hold Messages by Easy On Hold