Your customers, clients, members, patients… want answers. That's true during normal circumstances and an absolute priority in times of trouble. Since the onset of the COVID19 crisis, Easy On Hold, has been wildly busy with telecommunications messages for hospitals, financial institutions and many other clients. We'll share examples of how they are communicating critical information to their curious callers.
Virus Burns Up Phone Lines
How do you communicate with your customers? Email? Social Media? In-store signage? During times when visitors are limited or prohibited by state order, your primary means of communication is your phone. Call centers are feeling the heat as contact shifts from in-person to on the phone. Most phone-on-hold-messages we are producing at this time informing callers that "wait times may be longer than usual". This presents an opportunity for key communication, like never before.
Not Business As Usual
Imagine the scenario: your customer calls, is placed on hold. What they hear tells them that for you it's "business as usual". Your company appears tone-deaf, or as our CEO Julie Brown says it, "you're not addressing the elephant in the room". Julie says at least 50% of your automated-attendant and on-hold messages must address the current crisis.
Your new messaging should explain that your organization (your people) care, and therefore are implementing safety measures that are best for all of us. After establishing the new "ground rules for engagement", address obvious caller needs and questions. Are you open? If so, when? Can I visit? Should I? What if I get sick? Are your products safe?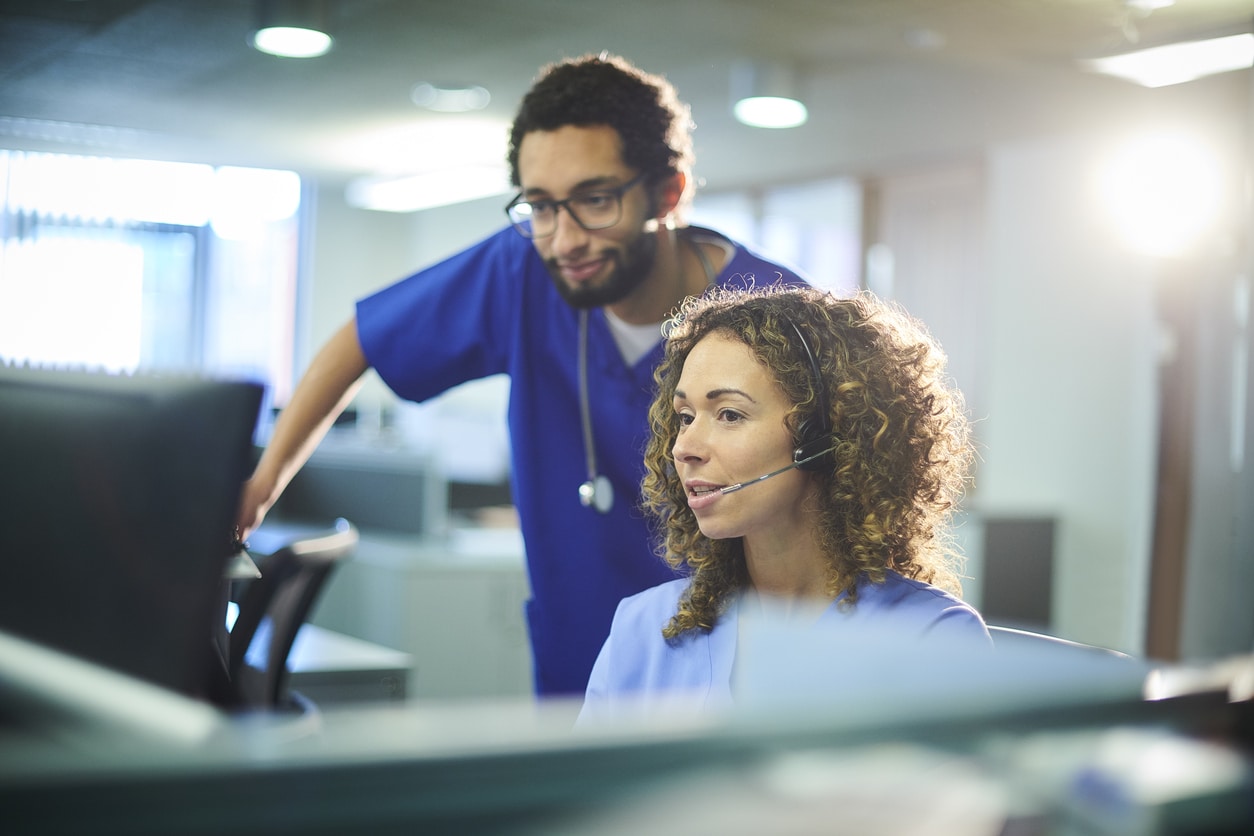 Examples of Medical Center COVID19 Messages On Hold and Announcements
As a phone messaging and IVR/Auto Attendant provider for major medical centers in the US, Easy On Hold has been working same-day turnaround times for important announcements. What these messages do well is convey a caring attitude while presenting critical information in a straightforward way. Hospitals and medical offices have to learn and prioritize patient needs and concerns. The response to the crisis must be obvious early in the phone call experience.
HOSPITAL – Visitors
Please be aware that due to an increased number of confirmed COVID19 cases in our area, we have restricted visitors, except in critical instances. Visit the hospital website at www.gwhospital.com for more information. Thank you for helping us stop the spread of COVID19.
HOSPITAL – Call Ahead
Call ahead before going in person to Cleveland Clinic locations for your scheduled visit, as some of our visits are being converted to online or telephone visits. If you have chest pain, shortness of breath, dizziness, a severe headache or other serious problems. please go to the nearest emergency department or call 911.
HOSPITAL – Taking Precautions:
Please be aware of the following information, as it relates to COVID19. If you have a fever, cough or difficulty breathing, or have had close contact with someone who has had a confirmed positive COVID19 test result, please seek medical attention by calling your provider's office. If you are scheduled to visit our facility for routine appointments or procedures and have a fever or flu-like symptoms, please reschedule your appointment.
HOSPITAL HEALTH INFORMATION MANAGEMENT – Automated Attendant Greeting
Please note, we at the H.I.M. department care about your safety, and are encouraging the use of email to request your medical records during this time. To initiate a request for hospital inpatient records only, an authorization to disclose health information and medical records must be completed and emailed to himroi@nyumc.org. That's himroi@nyumc.org. Or you may fax it to 212-263-7665. That fax number again is 212-263-7665. Or you may mail the authorization form to 650 1st Ave., 6th Floor, H.I.M. Department, New York, New York, 10016.
Medical Offices Phone Greeting and Messages On Hold Messaging Updates
Various medical offices (and we will include veterinarian offices in this group) are fielding more calls with less staff. Administrators' attention shifts to the reality of longer hold times and how to provide options to avoid holding for extended periods. Of course, safety comes first, and questions about who will be allowed to visit the office should be addressed. Notice that smaller offices are using voicemail and recommending email and website communications during this time. To reduce personal contact, telemedicine and curbside appointments are being offered.
MEDICAL OFFICE – Automated Attendant:
The front desk staff is unable to take your call at this moment. However, on our website, Lakeside-O-B-G-Y-N-dot-org, new and established patients can access the patient portal and make appointments. Please be advised that requests for Disability Forms & Medical Records are handled in the order received and may take up to 7 days to complete. If you leave a brief message, we will return your call as soon as possible.
MEDICAL OFFICE – Automated Attendant:
Thank you for calling Advance Vein Therapy. If this is a medical emergency, hang up and call 911. Due to national concerns regarding the coronavirus, and in order to keep our patients and employees healthy, we are taking precautionary steps to ensure that any individual who enters our facility is not experiencing any of the following: an active cough, flu-like symptoms, shortness of breath associated with these symptoms, traveled out-of-country in the last four weeks or been exposed to someone with COVID19 or currently under investigation for possible COVID19 infection. If you are a patient with an appointment and are experiencing any of these symptoms, we ask that you reschedule your appointment and consult with your physician.
VETERINARY OFFICE – Hold Music Messages:
We at Acadia Animal Medical Center understand your concerns about the coronavirus. We are here to serve you and your pets, accommodate your needs and help ease your fears. We encourage you to practice social distancing while inside our building or staying outside until we call for you and your pet. We disinfect our building before we open to protect you and your pets from any viruses out there. We will continue to monitor the situation and provide you with the most current information as we know it. If you have any questions, please don't hesitate to ask us. Thank you and be safe.
VETERINARY OFFICE – Message On Hold:
For your safety and ours, we're offering curbside service only for right now. Just call when you get here…a technician will come to your car and get your pet when the doctor's ready. The doctor will call to discuss any questions and concerns, and we'll also arrange payment by phone. Only clients with euthanasia cases are permitted inside. Please know that we're taking every precaution for everyone's health and safety!
MEDICAL OFFICE – Phone On Hold:
Telemedicine appointments for routine office visits and follow-ups are now available for your safety. Telemedicine Is ideal for reviewing scans and test results without in-person intervention. And it's ideal for patients following up during active treatment with a prescription medication where prescriptions can be refilled electronically. Telemedicine can NOT be used for emergency medical care. Let us know if you're interested and we'll tell you how to download the application to your smartphone, tablet, or computer. We've also added a link at "Illinois Cancer Specialists dot com."
Financial Institution Messages On Hold
Callers want to know their money is safe and accessible. The focus is on safety, but with the assurance that funds and access to them are not restricted.
CREDIT UNION – Automated Attendant:
Hello. Thank you for calling WESTconsin Credit Union, Realty, Title Services, and Investment Advisors. In the interests of public and employee health and safety, we are limiting our services. Drive ups at all office locations are open from 9 am to 5 pm Monday through Friday. We will be closed Saturdays.
CREDIT UNION – Message On Hold:
During times like these, we want to assure you that Wildfire Credit Union is dedicated to the safety of our members and employees, both financially and physically. Most importantly, your money is safe and secure. Wildfire Credit Union is federally insured by the National Credit Union Administration. Knowing your funds are safe and available when you need them is our way to offer you peace of mind, that allows you to focus on keeping you and your family healthy. During these extraordinary times, we are also taking several proactive steps to protect you and our staff. All Wildfire branch lobbies are closed to walk-in traffic. members with specific needs may make appointments through the call center.
BANK – Telephone On Hold:
To protect our customers, employees, and community we ask that you handle as much business as possible through the drive-thru. We will have extra employees at the drive-thru and encourage you to use both lanes. We will continue to make loans, open accounts, and offer all of the same services you're used to inside the bank. If you have business that must be conducted face to face, you will be allowed inside. All we ask is that you call us and make an appointment. Our customer's financial needs, as always, are of the utmost importance to us. If you have any questions or concerns, please ask a representative when we take your call, and call again any time in the future for any reason, and we will help you. Clinton Bank is trying to do our part to prevent the spread of COVID-19 while still being your financial partner for life.
CREDIT UNION – Beware Of Scams
Beware of Coronavirus scams! Scammers are preying on people's fears. This includes selling phony products, attempts to steal your identity, and collecting monetary donations through fake charities. Be cautious if you receive suspicious phone calls, letters or email and continue to monitor your accounts for any unusual activity.
Businesses Messages On Hold Stay Up To Date and Look Forward
During the COVID19 crisis, farmers need equipment for planting (what if I need service?), pharmacies need to take care of patients (can I get my meds?), the hospitality and resort industry is shut down (do I get a refund for my booking?) and consumers are looking for something to do (are you open?). While the pandemic situation seems to change day-by-day, every business must take a good look at what messaging is being communicated? Are call volumes high? What are callers asking? Here are more examples.
RESORT Looks Ahead, Plans On Full Recovery
Hold on to your booking for June because we have big news. The Americade Motorcycle Touring Rally is coming to Lake George June 1st through 7th. Join the fun with stunt shows, music, motorcycle parades, and thousands of bikes parked all along Canada Street. All sites and rentals come with private parking, picnic table, and fire ring. Americade will be a blast with all roads leading to Lake George! Ask about staying with us when we come back.
EQUIPMENT DEALER Still Open:
Our Sales and Service Departments are still open to support your needs. If you'd rather not enter the building, we understand. When you drop off or pick up your machine or parts, give us a call on our main number and we'll be glad to meet you at your vehicle. Hang on to hear about other COVID-19 measures we're taking to protect your well-being.
EQUIPMENT COMPANY Promotes Online Shopping:
Visit www.flintequipco.com as our website is your source for ordering parts, scheduling service or shopping our wide selection of new and used equipment. And you're able to take advantage of additional savings by shopping online from the comfort of your home. You can also schedule a pickup or drop off appointment for parts, service or sales. Thank You for your patience and understanding and due to a higher volume of calls, you may experience a longer hold time.
LANDSCAPING COMPANY Says Get Outdoors:
We know you're staying closer-to-home these days. But getting outside to work on your garden is a safe and beneficial way to enjoy nature! So take advantage of our container garden kits and curbside pick-up options. Curious? We're coming right back to tell you more.
GARDEN CENTER Follows CDC Guidelines, Offers Drive-up Window
Thanks for calling Niemeyer's Landscape Supply. While we're all staying closer-to-home, it's the perfect time to get productive outside. Beautify your yard, make a dent in the honey-do list, and get some much needed fresh air. Need to pick up materials from our Hardscape Yard? We're not currently accepting walk-in customers, so please plan to order by phone and use our drive-up window or you can also request delivery. If you are stopping by our Garden Center, please follow current C-D-C safety guidelines, and maintain appropriate social distance.
LUMBER SUPPLY COMPANY Says "Stay Positive"
We understand that building a woodworking project is a great way for you to stay positive and productive during the COVID-19 situation. As we continue adjusting to an increase in orders while keeping our employees safe, please note that orders are taking longer to process and pack.
Your Next Move
Any organization can use telephone communication (IVR/Automated Attendant and Phone On Hold Messages) to educate, update and motivate callers who are naturally concerned about how life is changing in this time of coronavirus crisis. Next, you may want to review the video by Easy On Hold CEO Julie Brown, who says this is the time to make changes to your call center messaging. When we get through this terrible time, we will look back and take inventory of what we've learned and how we're better at everything we do. Possibly, we will all be better communicators.