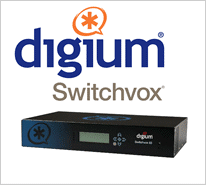 Digium is the company that made the popular open source Asterisk phone system. Among their solutions is the Switchvox system. "Basically Asterisk with a GUI," said one Switchvox support staffer. When it comes to the music and messages callers hear while on hold, Switchvox has up until recently offered only the use of internal audio files. If you are using version 5.8 or newer, however, there is now an option for an external MOH device.
Music On Hold From External Device
If you want to use a smart external device, like the one included with services offered by the new Easy On Hold streaming message on hold service, you'll be happy to know that you can now use your sound card as the music on hold, and from there you can plug in a CD player, or any other device.
As of version 5.8, you can plug in a USB audio streaming device, and it becomes a new MoH Group. That group can be used for the system's MoH, and/or for MoH of any queue. A Group can be set as the system's MoH. Meaning, groups aren't just for queues anymore.
NOTE: To use an external music on hold source, plug in a Turtle Beach Amigo II USB sound card (TBS-1155-01). It's an inexpensive audio-to-USB sound card and adapter. It must be plugged into a Switchvox appliance.
Setting Up Music On Hold Files For Switchvox
If you don't have V5.8 yet, you will need to use .mp3 audio for the file format known as OggVorbis (.ogg). You may use music-only audio files (provided you have the proper licensing for the music you are using) and add a "call queue" with additional announcements, or you may keep the call queue announcements off and use an audio file with both music and announcements in a self-contained audio file. Queue announcements must also be in the .mp3 or .ogg audio formats.
Many businesses prefer to play their own custom messages to give important announcements or offer promotions. Here are the steps, provided by the Digium support site, for getting your music on hold queue set up:
First you must upload your sounds:
Go to Tools> Music On Hold
In the upper right hand corner choose add new: GROUP
Fill in the name and specifics.
Once created choose add new: Upload Song and upload your new sound files to the newly created Music on Hold group.
Next we apply the new folder to our queue:
Go to Setup>Manage
Choose the pencil Icon to modify your call queue
Go to the Caller Experience tab at the top and adjust the Music On Hold folder to the newly created folder.
Call your call queue and test the music.
We work with Digium and many Asterisk and Switchvox developers, and we are all pleased with the improved music on hold and messages on hold options now available for Switchvox users.
Easy On Hold is not responsible for the performance, installation or operation of equipment we do not sell. Articles about equipment are for educational purposes only and do not constitute an endorsement of any make or brand. Easy On Hold makes no claims or warranties regarding telephone equipment of any kind.

The following two tabs change content below.
Founder of Easy On Hold and Brandi Music. Thinker, writer, speaker, tinkerer, husband, father, musician.
Latest posts by Tim Brown (see all)