If you receive a letter from ASCAP asking for music licensing fees, pay attention. They may have the right to demand fees and they're definitely not fooling around.
Take a look at a letter received at an industrial company in the U.S., warning of fines. This company was being called out because they want to use music on their hold button. Does music on hold require a license? Yes it does. Easy On Hold offers this coverage as part of your regular purchase with us.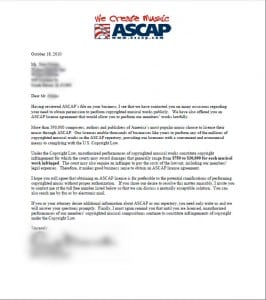 The company being asked for licensing money will not have to pay, because the music they're using on hold is properly licensed by Easy On Hold, the music on hold vendor.

Easy On Hold pays for the rights to not only edit the recorded music for use in advertising on hold, but also for the rights for the end-user to "perform" the music. Any time a piece of music is used in a business, such as music on-hold, it is considered a "performance".
Do ALL phone on hold companies pay performance rights for their clients? NO. Be careful. The responsibility is that of the end-user. If you are considering putting on-hold music on your telephones, remember that unless you use a competent provider, such as Easy On Hold, you will be 'on the hook' to pay ASCAP as well as other licensing organizations including BMI (Broadcast Music Incorporated) and SESAC.

The following two tabs change content below.
Founder of Easy On Hold and Brandi Music. Thinker, writer, speaker, tinkerer, husband, father, musician.
Latest posts by Tim Brown (see all)